Microsoft and NFL Expand Tablet Use for Replays, Despite Rocky Start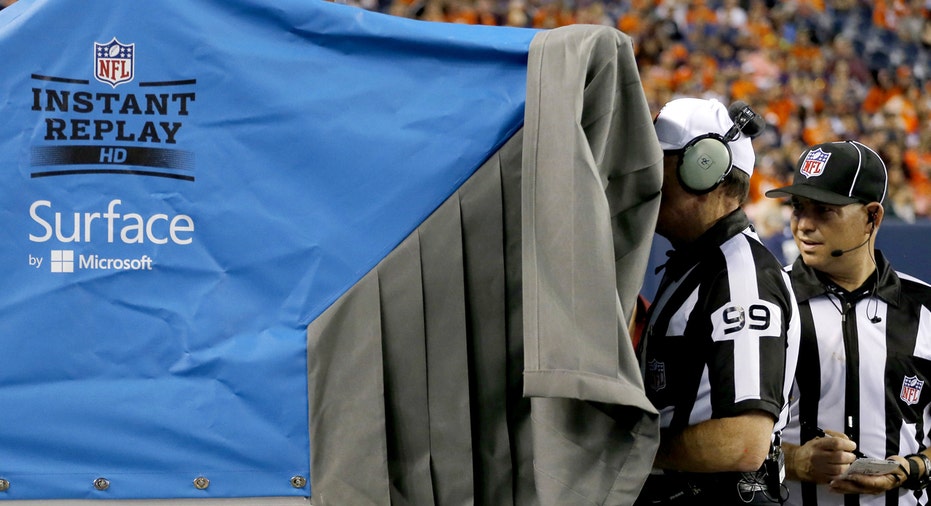 The NFL's much-scrutinized partnership with Microsoft (NASDAQ:MSFT) got an upgrade this week after the league's 32 owners voted Tuesday to approve a new instant replay system that will make heavy use of the "Surface" tablet.
Under the new system, game referees will use the company's tablets on the field to review any coach challenges. While watching the instant replay, the referees will communicate with the NFL's officiating headquarters in New York to reach a final determination. This tech-based system replaces the league's old method, which required officials to leave the field and go "under the hood" to review plays on a television monitor.
"We're pleased to build on our partnership with the NFL and help lead the digital transformation of the game with yesterday's approval of NFL referees conducting video reviews on Surface this upcoming season," Jeff Tran, Director of Sports Marketing and Alliances at Microsoft, said in a statement to FOX Business. "The introduction of Surface to this aspect of the game will improve consistency and accuracy of decisions and also speed up the overall review process to enhance the viewing experience for fans."
The "Surface" has been the league's official tablet since 2014, when Microsoft agreed to pay the NFL a reported $80 million annually through the year 2019. Under the deal's initial terms, NFL teams had the option to use the tablets on sidelines to analyze on-field action in lieu of physical photographs and diagrams.
While the Microsoft logo has become a fixture on NFL sidelines, the tablets' performance has generated criticism on multiple occasions. During the 2016 AFC Championship game between the New England Patriots and the Denver Broncos, a stadium network issue briefly knocked the tablets offline.
Patriots head coach Bill Belichick is an outspoken critic of the tablets. Belichick was seen spiking a "Surface" to the ground during an early season loss to the Buffalo Bills. In October 2016, he declared the tablets "undependable" and said he would no longer use them.
"As you probably noticed, I'm done with the tablets. They're just too undependable for me. I'm going to stick with pictures, which several of our other coaches do, as well, because there just isn't enough consistency in the performance of the tablets. I just can't take it anymore," Belichick said at the time.
With the tablets set to take on a much larger role during NFL games in 2017, Tran said Microsoft is prepared to handle any glitches.
"While we don't anticipate any issues with the Surface used by referees when conducting video reviews, Microsoft does have a representative on each sideline at every NFL game to troubleshoot any problem," Tran said.
This story has been updated.