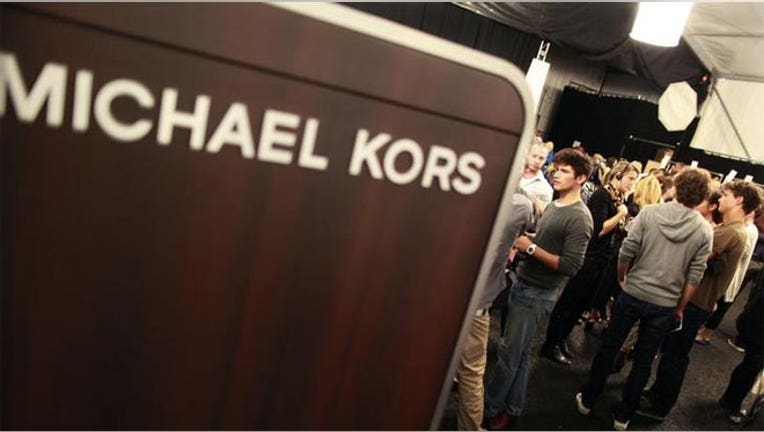 Shares of Michael Kors (NYSE:KORS) spiked 19% Tuesday morning after the retailer blew away expectations with a 77% surge in fiscal third-quarter profits and soaring sales that vaulted above the $1 billion level.
In addition to reporting results that crushed forecasts, Michael Kors brightened its full-year earnings guidance above the Street's views.
The retailer said it earned $229.6 million, or $1.11 a share, last quarter, compared with a profit of $130 million, or 64 cents a share, a year earlier. Analysts had called for EPS of just 86 cents.
Revenue soared 59% to $1.01 billion, easily exceeding consensus calls from analysts for $859.9 million. Same-store sales climbed 27.8%. North American revenue climbed 51%, while European sales skyrocketed 144%.
"Michael Kors enjoyed an outstanding holiday season, as global brand awareness continued to drive strong demand for our luxury product," Michael Kors CEO John Idol said in a statement.
Looking ahead, Michael Kors now sees full-year EPS of $3.07 to $3.09 on revenue of $3.18 billion to $3.19 billion. Even the low end of that new range would top the Street's EPS view of $2.83 and revenue forecast of $3.03 billion. Same-store sales are projected to increase about 25%.
For the current quarter, Michael Kors anticipates EPS of 63 cents to 65 cents on sales of $790 million to $800 million.
"We remain very excited about our future growth prospects as Michael Kors continues to gain momentum as a global luxury lifestyle brand," Idol said.
The latest numbers from Michael Kors sent the company's shares soaring 18.72% to $91.02 in recent trading, extending their one-year rally to almost 66%.