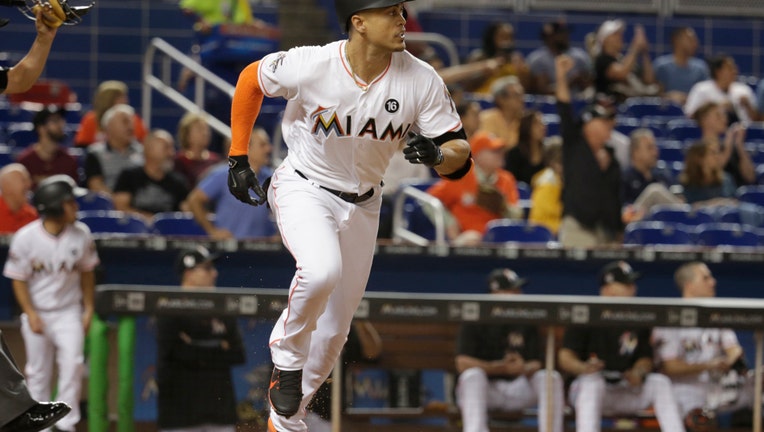 The mystery bidder that has emerged in the sale of the Miami Marlins, billionaire Jorge Mas, is planning to throw down between $1 billion and $1.1 billion to purchase the struggling baseball franchise, in a deal that could be announced as early as Wednesday or Thursday of this week, FOX Business has learned.
Mas is a prominent South Florida businessman, whose family has been well connected in the local Cuban-American community for decades, and has told people he can "write the check himself" if he ultimately decides to make the move, according to people with direct knowledge of the matter.
Though the decision isn't final, Mas has been conducting due diligence on the Marlins finances for weeks and has told people he is leaning heavily toward buying the team with a bid of around $1 billion. If he does bid, the move will have the full support of Major League baseball over other bidders given his deep pockets and ties to Miami, which league management believes is essential for turning around the struggling franchise by marketing it to the area's large Hispanic community and Latin America, as baseball looks for new markets to expand.
Mas' massive net worth—estimated around $2 billion to $2.5 billion—means he won't need significant financial assistance from either banks or partners. But people close to him say he will likely cobble together financing from his network of prominent South Florida businessmen, and even allow one of the team's current other bidders, former New York Yankees shortstop Derek Jeter, to own a small piece of the team.
However, under the management plan envisioned by Jorge Mas that he has described to friends and associates, Jeter will not play a major role in running the team. Jeter, a likely future Hall of Famer, has made no secret that his post-playing ambition is to run a baseball franchise despite his lack of business experience.
But as FOX Business previously reported, Jeter has been stymied in his attempt to amass enough cash to make a serious bid to purchase the Marlins.
A spokesman for Mas could not be reached for comment; spokesmen for Jeter and the Marlins didn't return calls for comment. A spokesman for Major League Baseball had no comment. Mas has yet to publicly confirm his interest in the team, but has been discussing the purchase with friends, business associates and the league commissioner's office, which must bless any deal.
Mas is well known in South Florid business circles as the chairman of MasTec, a Coral Gables-based infrastructure company. He has told friends and associates that he plans on running the Marlins full time, and will leave day-to-day operations of his company to other executives.
His brother Jose Mas, is expected to stay as MasTec's CEO, but he is also expected to play a role in helping his brother, Jorge, run the team, according to people with direct knowledge of the matter.
The Marlins attracted a slew of potential buyers who have so far failed to raise enough cash to purchase the team, FOX Business has learned. Jeter at one point secured what people close to the sale of the team said was the "preferred bid" of $1.3 billion to buy the Marlins.
But as FOX Business was first to report, Jeter told Major League Baseball last week he is well short of raising that amount of money.
People with knowledge of the Marlins sale say baseball Commissioner Rob Manfred favors Mas as the future owner because of his deep pockets and his plans to market the team as Major League Baseball's "gateway to Latin America," where he could attract both attendance from the large Hispanic community and strike cross-border business deals.
But most of all, the league likes his wallet and connections to potential partners who could allow him to fulfill the league's stated requirement that any new owner buy the franchise largely with cash, and not incur heavy debt that would limit the team's prospect to build a strong organization.
Mas is the son of refugees from Cuba and his father, Jorge Mas Canosa, was a prominent opponent of the Castro regime for decades. Mas Conosa started the Cuban American National Foundation, a refugee organization that his son now chairs.
Mas Canosa, who came to America penniless, died in 1997 with an estimated net worth of $100 million. However his son, through his interest in MasTec and various private equity outfits, is said to be worth much more.
One possible sticking point for Mas has been the financial condition of the Marlins, which will hand any new owner significant levels of debt, and big salaries for its players that will be acutely felt in the coming years given the way the contracts were structured, these people add. The team's current owner, Jeffrey Loria, who made his fortune through art dealing, bought the Marlins for a fraction of its current selling price.
But if the Marlins are one of the more mediocre franchises in the past decade, (its record is currently just below .500), the team is even worse off financially; in addition to its debt and poor attendance, the Marlins are said to be losing anywhere from $40 million to $70 million each year.
Mas has told friends and associates that he understands the uphill battle to fix the team, but has been discussing various marketing deals and other ways to generate revenues and increase attendance.
The bidding war for the Marlins has captivated both baseball and finance for months since FOX Business first reported that a number of people — from Jeter to former Florida Gov. Jeb Bush, to Tagg Romney, the son of the 2016 GOP presidential candidate — were interested in buying the money-losing team.
But these publicly announced investing teams are finding it difficult to win over possible investors because of the dire condition of the Marlins' finances, and because unlike Mas they didn't have enough of their own capital for a serious bid. All this came as the scarcity value of major league franchises pushed the price tag for the Marlins well above $1 billion.
After joining forces with Jeter, Bush dropped out of the bidding process weeks ago. The team led by Romney, a partner in Solamere Capital, is said to be all but out of the process now unless Loria lowers his price tag.