Method to the Madness of Cubs' Skipper Joe Maddon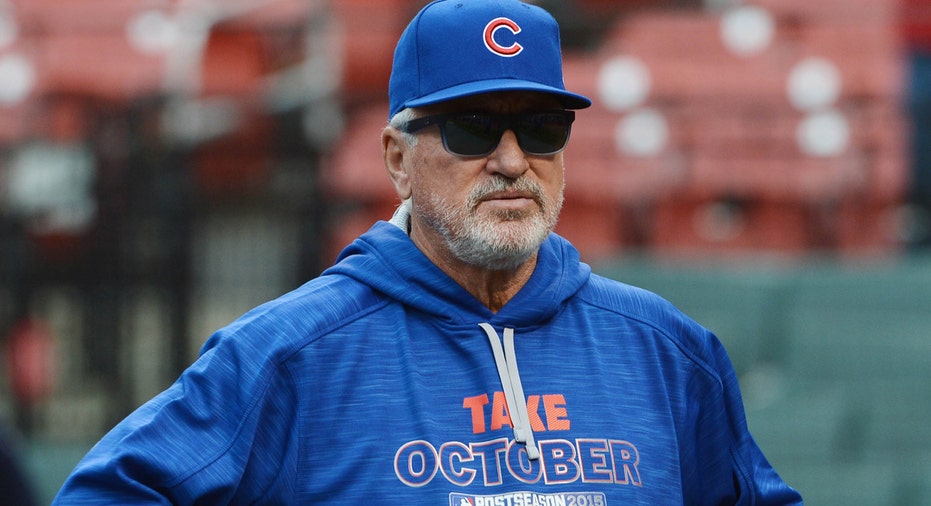 Casual observers may dismiss Chicago Cubs coach Joe Maddon as a lightweight.  Maddon does seemingly goofy things. He bought a round of drinks for the press at his first press conference as Cubs manager. He had a petting zoo set up in the outfield for his players and their families before one game. The night Cubs ace pitcher Jake Arrieta pitched a no-hitter against the Los Angeles Dodgers, Maddon and his team donned onesies pajamas for the return flight to Chicago.
These oddities aside, underestimating Maddon's ability as a leader would be a BIG mistake. In his first season with the Cubs, the team has made it to the National League Championship Series.
You see, it's been said that there are losers and there are learners. Joe Maddon has accumulated more than 700 losses over his 12-year career as a major league manager. And with each loss I suspect he became better by observing, analyzing, and reflecting, then making improvements. As a result, today Maddon is among the best of the best managers in Major League Baseball, a leader whom players respect, trust and give their best efforts to please.
Below are five insights that can be learned about leading teams by studying the methods of Joe Maddon.
1. As manager, it's not about you
In 1969, the Chicago Cubs gave up a nine game division lead to the New York Mets.  Leo Durocher, the Cubs' manager during that time, was known as "Leo the Lion" for his bombastic personality. Durocher needed to be the focus of attention, the big boss.  Players followed him out of fear and didn't speak up to challenge his poor decisions.  Durocher played guys until they were exhausted. He beat them up verbally when the team lost, saying things such as: "I could have dressed up nine broads as ballplayers and they would have beaten the Cubs."
Unlike Durocher, Maddon's focus is not on himself -- it's on serving and taking care of his players. Madden cares for each one.  He is approachable, listens and considers what others have to say. Cubs players follow him out of respect and affection.
2. Keep your eyes on the real competition
Maintain the right perspective. Maddon focuses players on becoming the best they can be and the team on becoming the best it can be.  He's not as concerned with what opposing teams do.
This is a mindset that's similar to what the legendary UCLA men's basketball coach John Wooden taught, i.e. your competitor is not the other guy, it's the best player you can possibly become. If you are giving your best effort in each practice and each game you play, you have nothing to fear from the other guy or the other team, and you will perform better.
3. Concentrate on what you can control
Maddon has said that he has no problem when players make physical mistakes. He understands baseball is a difficult game and that physical mistakes will be made. He wants his players to concentrate on what they control -- their preparation -- and not on outcomes. Maddon develops players to be mentally prepared so that mental mistakes will not be made.
Physical setbacks, such as injuries, cannot be controlled, but mental mistakes can, so be prepared by thinking through in advance what you will do in various scenarios.  When the time comes to act quickly, you will be prepared to do the right thing. This type of mental preparation reduces stress and fear, which sabotage optimal performance.
4. Employ the positivity ratio
Joe Maddon is an upbeat, positive, optimistic leader. His interactions with people appear to be overwhelmingly positive in nature. Research has shown that marriages tend to last when positive-to-negative interactions meet or exceed a ratio of 5-to-1.  Other research confirms that a positivity ratio applies in the workplace as well. As a leader, being generally positive in your interactions with the individuals you are responsible for leading will result in more constructive relationships and that has a positive effect on performance.
5. Something is wrong if you are missing satisfaction from your work
Joe Maddon has said, "never let the pressure exceed the pleasure." Having also been a player, a scout, and a manager in the minor leagues, he knows firsthand that baseball is a grind. The endless pressure to be disciplined and stay in top physical shape, the road trips, the hotels, and routinely being away from family and friends takes a toll. Maddon does what he can to keep the mood light so that players don't take themselves too seriously.
That brings us back to Maddon's antics. They help keep the players laughing and having fun together. There is a method to Maddon's madness, too. And that's part of what makes the madcap manager unusually great.
MORE FROM CONNECTIONCULTURE.COM
4 Ways Millennials Can Boost Productivity and Fulfillment at Work
Addressing Workplace Incivility