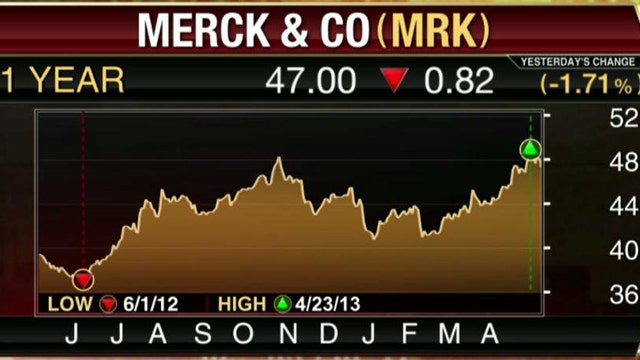 Hurt by the expiration of patents for blockbuster drugs and the rise of competitive generics, Merck (NYSE:MRK) revealed a sharp revenue miss and lowered its full-year outlook.
Looking toward the full year, the Whitehouse Station, N.J.-based drug maker decreased its earnings per share guidance to $3.45 to $3.55, below Wall Street's view of $3.63 a share.
Shares of Merck fell more than 4.5% in early-morning trade to $44.85.
The manufacturer of drugs like Januvia, a diabetes treatment, and cholesterol fighter Zetia reported net income of $1.59 billion, or 52 cents a share, down compared with a  year-earlier profit of $1.74 billion, or 56 cents.
Excluding one-time items, Merck said it earned 85 cents, ahead of average analyst  estimates of 79 cents.
Sales fell 9% to $10.7 billion from $11.7 billion a year ago, missing the Street's view of $11.09 billion. The decline was in part related to the loss of patent exclusivity for Singulair, Merck's asthma and allergy treatment that began facing competition from cheaper generics in 2012.
"Our first quarter performance reflects the challenges of major patent expiries  coupled with the impact of currency and other headwinds," Merck CEO Kenneth Frazier said in a statement.
Frazier nevertheless said he remains confident in the "future opportunities" for its  "strong and diverse business" and pipeline. The drug giant is hoping regulatory approval for several new drugs in its pipeline will help offset the effects of the so-called "patent cliff."
Separately on Wednesday, Merck announced a new $15 billion stock repurchase  program with plans to spend half of that -- $7.5 billion -- over the next 12 months.