Mercedes Serves Up Promotions at U.S. Open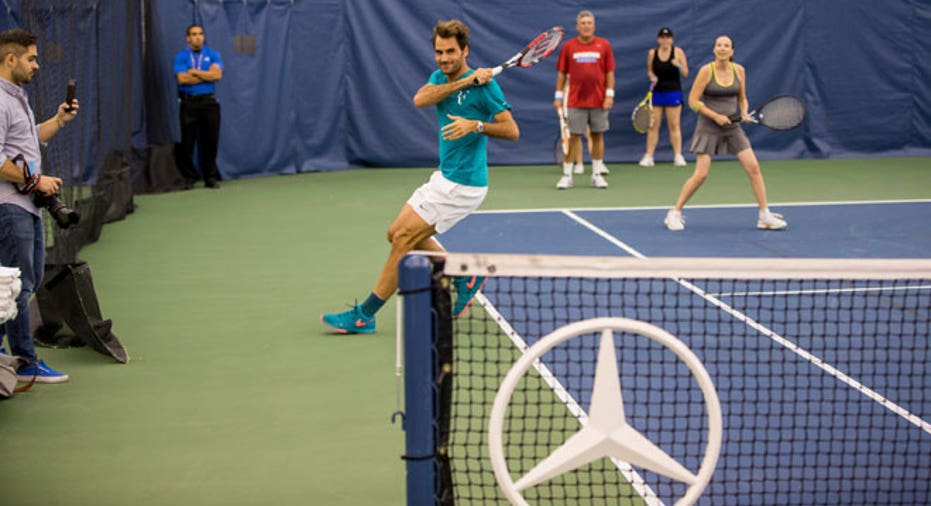 Mercedes-Benz hopes to turn tennis fans into car buyers at the 2015 U.S. Open.
The luxury automaker has long pumped marketing dollars into the sport, and at the U.S. Open in New York, Mercedes is making another splash. Mercedes, whose logo appears on the net in Arthur Ashe Stadium, is the event's official vehicle and the presenting sponsor of the men's singles championship on Sept. 13. Roger Federer, a Mercedes brand ambassador, is playing for his 18th Grand Slam singles title.
There is a nice perk for Mercedes owners, too. Drive up in your Mercedes, and parking is free.
The U.S. Open, the last of four Grand Slam tournaments each year, offers the biggest platform in North America for brands to reach tennis fans. For Mercedes, the money spent on sponsoring the event is worth it.
"We can equate a lot of what we do here with sales. There's a very high return on investment for us," said Stephanie Zimmer, department manager of brand experience marketing at Mercedes-Benz USA.
Through its sponsorship, Mercedes aims to change perceptions about its brand. "We're not just a high-end automaker, but we're a brand for everybody," Zimmer added. "If I can change one person's mind about the brand, than I've done my job."
Mercedes has made an effort to bring in consumers who have tighter budgets. Its CLA-class vehicles start at roughly $31,500, below August's average transaction price of $33,543 according to Kelley Blue Book data.
The entry-level model line was launched in the U.S. market about two years ago, and the compact sedans and coupes quickly gained traction. Sales are up 35% year-over-year through the first eight months of 2015.
Overall, Mercedes-brand sales have grown 7.3% thanks in part to AMG high-performance models, which Federer has pitched in televised ads. Although it remains ahead of Mercedes in total sales this year, BMW has reported smaller growth of 5.9% through August.
Early Mercedes events at the National Tennis Center included a tennis clinic with Federer, who holds the men's all-time record for the most Major singles championships.
"When he speaks about us, it really is coming from his heart," Zimmer said of the tennis star.
So how much can sponsorships impact sales? For luxury brands, it can be the difference between making a sale and a competitor making a sale. Sometimes the hardest battle is getting a customer to walk into a dealer.
Mercedes, whose vehicles are on display at the U.S. Open, is a big player in the sports world.
The German automaker scored the naming rights to a new stadium for the NFL's Atlanta Falcons, an announcement that came after Mercedes moved its North American headquarters from Montvale, N.J., to Atlanta this summer. The company's NFL portfolio also includes the Mercedes-Benz Superdome, home of the New Orleans Saints.
In golf, Mercedes served as an official sponsor of the PGA Championship in August and has an endorsement deal with Rickie Fowler, who is ranked No. 9 in the world.
Zimmer said Mercedes' sports partnerships are consistent with the brand's motto, "the best or nothing."
"The Superdome is one of most iconic sports buildings in the country, and the Falcons' stadium is one of most innovative in country. All of those properties resonate in that space," Zimmer explained.
As for tennis, Mercedes—a sponsor in the sport for nearly 20 years—believes the U.S. Open also resonates with its target customers.
"It's a sport about performance, and we're a performance brand," Zimmer said. "It doesn't hurt that 700,000 people walk through the gates every year."