Menswear Brands Capitalize On Sweaty March Madness Coach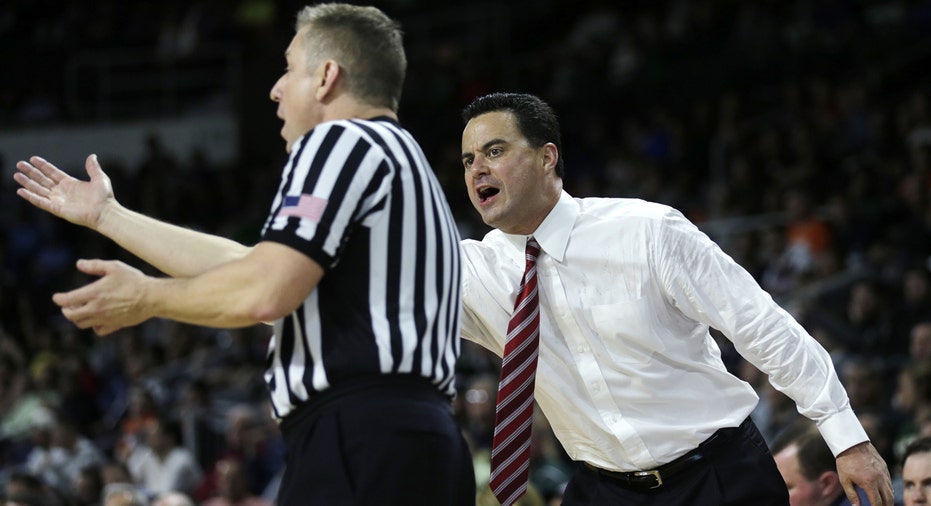 While many March Madness fans were busy turning University of Arizona basketball coach Sean Miller's profuse sweating into a punchline on Thursday, up-and-coming menswear brands Mizzen+Main and Tommy John used the viral trend to launch impromptu marketing campaigns on social media.
Less than ten minutes into No. 6 seed Arizona's game against the eleventh-seeded Wichita State Shockers, Miller's dress shirt was so soaked with sweat that it had literally turned transparent. Countless outlets, including NCAA Tournament broadcaster CBS Sports and the official "March Madness" Twitter page, poked fun at Miller's wardrobe malfunction on social media. Miller changed into a new shirt at halftime, but Arizona went on to lose the game, 65-55.
In the midst of the social media frenzy, Houston Texans defensive end J.J. Watt, who serves as a brand ambassador for Mizzen+Main and owns an undisclosed equity stake in the company, tweeted that Miller could use one of its shirts. That tweet alone generated $143,929 in advertising value for Mizzen+Main, according to Apex Marketing Analytics.
"It really hits all the criteria for a successful influencer-sponsored message — it's authentic, timely, and creative. Not to mention, it comes from an athlete who actively uses the product and has almost two million Twitter followers," said Sam Weber, a marketing coordinator at Opendorse, a marketing company that specializes in athlete social media campaigns.
Mizzen+Main's push didn't stop there. The menswear company, which markets itself as the "choice of athletes, entrepreneurs and game changers," sent Miller some of its shirts on Friday, a company spokesperson confirmed to FOXBusiness.com.
Tommy John, a New York-based company that produces men's undergarments, took a similar route. While the brand lacks a celebrity endorser on par with Watt, it has aggressively pursued a social media marketing campaign tied to the 2016 NCAA basketball tournament. CEO Tom Patterson is offering free Tommy John underwear to anyone who can beat his March Madness bracket.
Tommy John sent a tweet to Miller during the game, offering to send him some of its moisture-wicking undershirts. That post generated more user engagement on Twitter than any of its other tweets this year, Weber noted.
"I created Tommy John based on frustrations with my undershirt, so I can relate to the uncomfortable situation that Coach Miller was in last night," Tommy John CEO Tom Patterson said in a statement to FOXBusiness.com. "Our undershirts have cooling and drying technology so we thought he could benefit from one. We will be keeping an eye out for any other victims during March Madness, and are serious about our offer to send Coach Miller an undershirt."
An opening round victory probably would have made it easier for Miller to keep his cool, but at least he'll be getting a consolation prize.