Meet Major League Football, An NFL Alternative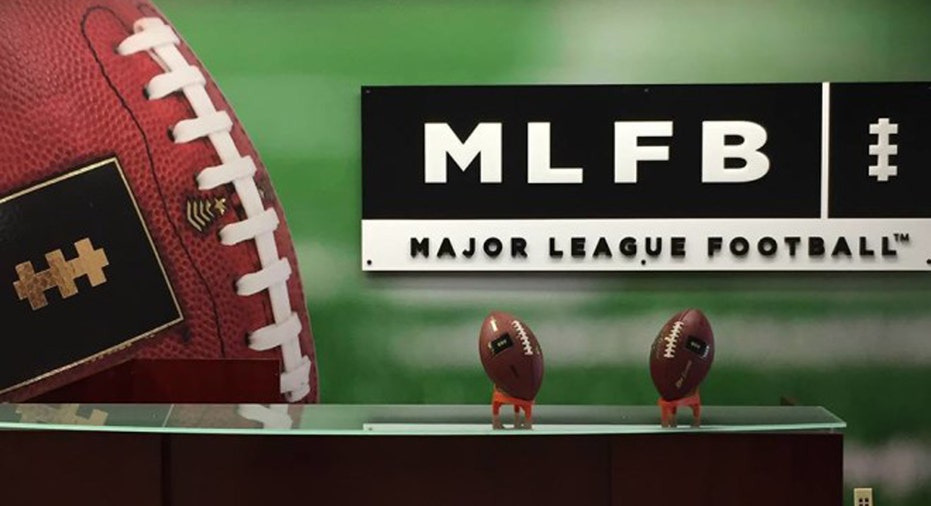 If you can't beat the National Football League's 32 billionaire team owners and $12 billion-a-year revenue stream, join them. That's the thought process behind Major League Football, a fledgling organization that hopes to become a developmental league for hundreds of athletes who haven't given up on their dream of playing in the NFL.
NFL executives have publicly discussed the need for a bridge between the college and professional football – a league that would prepare athletes for the physical and mental rigors of playing at the next level. MLFB is one of several upstart organizations seeking to fill the void. Founded in 2014, it has already attracted support from several former NFL coaches, executives and players, including former Dallas Cowboys head coach Dave Campo, former New York Jets head coach-turned ESPN analyst Herman Edwards and former Atlanta Falcons quarterback Chris Miller.
MLFB has neither the resources nor the inclination to compete with the NFL and the NCAA for dominance of the fall sports season. Eight league-owned teams composed of 53 players each will play their games in the spring. Each player, regardless of talent or backstory, will earn $3,000 per win and $2,000 per loss. But the real incentive, both for MLFB's players and its coaches, is to attract the attention of pro scouts and make the jump to the NFL.
"This league has to do with guys who had an injury here, or were overlooked there, or for whatever reason, we missed the mark," wide receiver Carlton Mitchell, a fifth-round pick in MLFB's draft, who has spent time with the NFL's Cleveland Browns and Atlanta Falcons, told FOXBusiness.com. "Having another opportunity to come in and be looked at and also competing with guys just as hungry as us, I feel like the competition level is going to raise that much more."
The idea for Major League Football first came together about seven years ago, when a group of former NFL players, personnel executives and sports agents noticed that public demand for professional football had exceeded the supply. They began to research how the league should operate, which cities would host its franchises and fan base demographics.
From the start, the men who would eventually comprise MLFB's front office decided the league should have a non-adversarial relationship with the NFL. MLFB's leadership also strove to heed the missteps of other startup football leagues, such as the Donald Trump-backed United States Football League and, later, the United Football League. Both leagues sought to establish themselves as a direct rival to the NFL, only to implode under the weight of the financial strain.
"We tried to have history be a teacher for us, in the sense of what had worked in the past, what was good for past leagues and past experiences, and what didn't work," said Frank Murtha, a longtime sports agent and the MLFB's senior executive vice president. "Part of that was clearly the idea of playing in the spring. We were never going to play in the fall."
Planning began in earnest in July 2014, when a publicly-traded company called Universal Capital Management acquired the league and turned it into its sole asset. The league owns all eight of its franchises, though its business plan calls for private ownership within a few years.
The MLFB will have television exposure from the start, thanks to a two-year broadcast rights deal with the American Sports Network, and plans to emphasize digital outreach and crowd interaction. Fans may have the chance to call some plays or see unique camera angles. Some rules will differ from the NFL, including the use of a shorter play-clock and the addition of four-point field goals.
"We're clearly targeting Millennials," Murtha said. "We're not going to have a lot of gimmicks in terms of our rules. We've got a couple of different rules for the NFL or colleges, but we're not going to be playing in a box and we're not going to be playing on a larger or smaller field."
The league has taken care not to overextend itself financially. Aside from access to the public markets, MLFB is relying on private funding to push its product forward. Earlier this month, the league announced that Asian Global Capital had acquired a $20 million stake and extended a $100 million line of credit.
Coaches have a relatively limited timeframe to prepare their players for MLFB's inaugural season. Practices are slated to begin in March and the first games are set to occur in April.
Miller, who will coach one of the league's eight teams, says the time crunch won't affect the way he teaches his players. The MLFB will focus on "pro-style" schemes and teaching, meant to prepare players for what they'd see in an NFL film room.
"Our focus and emphasis is on an NFL-style game, to get quarterbacks playing from under center, to get a point tight end that's attached to the tackle, to train linebackers how to read [professional] run schemes," Miller said.
MLFB officials are confident they have the business acumen and support they need to make their developmental league successful. Its players, including former University of South Carolina standout quarterback Stephen Garcia, recognize the league is their best shot at a pro career.
"All I'm hoping for is a foot in the door," Garcia said. "I think everybody else wants the exact same thing."