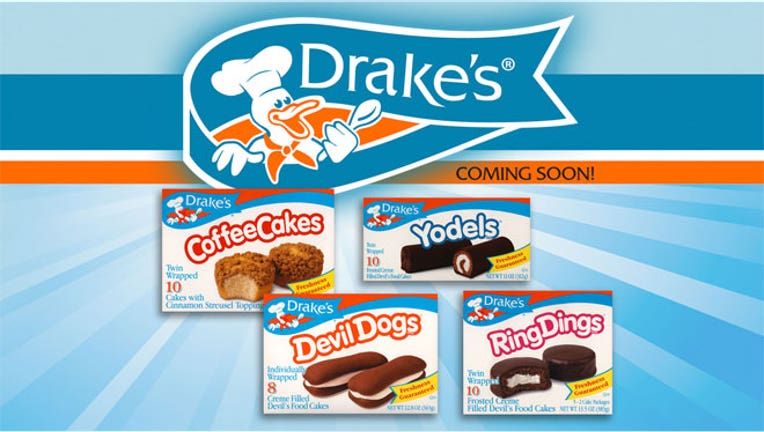 Former Hostess brand Drake's is slated to return to store shelves on Monday, bringing the battle for snack-cake dominance back to full force.
The bankrupt Hostess was broken up and sold in parts, with Hostess-brand cakes going to Apollo Global Management (NYSE:APO) and C. Dean Metropoulos & Co. and Drake's going to McKee Foods, the maker of Little Debbie cakes.
The revamped Hostess Brands re-launched Twinkies and other cakes on July 15 to much fanfare.
Drake's new owner said it will initially launch the four most popular cakes: Devil Dogs, Coffee Cakes, Ring Dings and Yodels.
The products will be available in supermarkets, convenience stores and value retailers throughout the Northeast on Sept. 23. A product locator will be available on Wednesday at DrakesCake.com.
"The launch of these top four varieties is just the beginning for Drake's," Chris McKee, executive vice president of marketing and sales, said in a statement. "Our first mission is to get the most popular and familiar tastes back into the pantries and lunch boxes of Drake's loyal fans."
McKee Foods said by using the original Drake's recipes and carton packages, it expects consumer interest in the cakes to pick up where it left off.
"We've been working to ensure that loyal Drake's fans enjoy the same great experience they remember, and we can't wait to hear what they have to say," Chris McKee added.
Wonder bread, another well-known brand formerly under the Hostess umbrella, is eyeing a Monday return as well. Wonder was sold along with Nature's Pride to Georgia-based Flowers Foods (NYSE:FLO), which also competes in the snack-cake market with its Tastykake and Mrs. Freshley's brands.