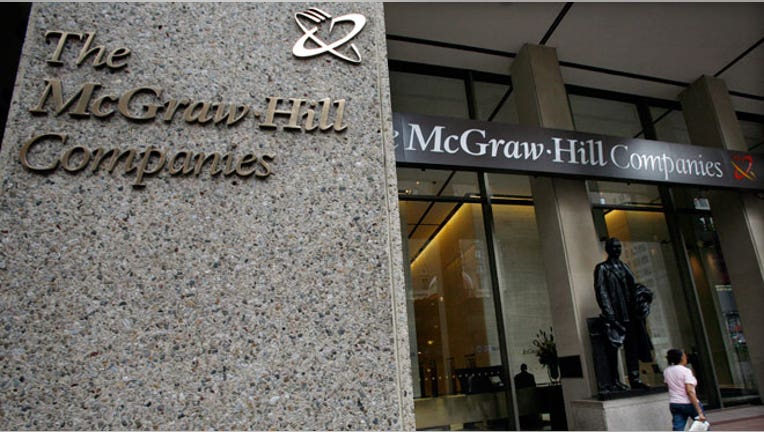 New allegations of wrongdoing at Standard & Poor's Ratings Services leading up to the financial crisis are unlikely to weigh on parent company McGraw-Hill (NYSE:MHP) in the long run, analysts said Tuesday.
The U.S. Department of Justice officially announced Tuesday a civil lawsuit against S&P, alleging the credit rating agency issued inflated ratings for securities backed by risky subprime mortgage loans. It is the first such complaint by the government against a rating agency.
According to the lawsuit, DOJ could seek as much as $5 billion from McGraw-Hill, which is valued at roughly $13.3 billion.
Shares of McGraw-Hill were down $3.41, or 6.78%, Tuesday afternoon, a day after dropping roughly 13.7%.
Moody's (NYSE:MCO), another provider of credit ratings, has also seen its shares fall as investors grow wary of government suits against rating agencies. The stock fell 10.6% on Monday and continued its slide Tuesday, when it was down $1.41, or 2.85%, in early afternoon trading.
Analysts at Piper Jaffray (NYSE:PJC) issued a research note to investors, reaffirming the firm's bullish position on McGraw-Hill and Moody's despite near-term litigation risk. The note stated that while the lawsuit against S&P "creates an overhang" that could hurt near-term valuations of both companies, the emerging litigation risks are "manageable."
Since 2008, rating firms have faced numerous lawsuits, including shareholder class actions. McGraw-Hill has reported a total of 30 dismissed and 10 withdrawn suits, while some fraud cases continue to play out in court.
The latest complaint cites an email, which altered the words to a song to reflect the crumbling housing market, as evidence of improper actions at S&P.
"Although numerous embarrassing and unprofessional emails have been uncovered (with more to come) they have not served to provide evidence of fraud on the part of the rating agencies," the Piper Jaffray note said.
"Credit rating agencies were thought to be the cause of the crisis," said Edward Atorino, an analyst at Benchmark Co., and the DOJ lawsuit resurrected those claims and weighed down on the market.
In a statement released Tuesday, McGraw-Hill stressed that "S&P's ratings were based on the same subprime mortgage data available to the rest of the market" and "every CDO cited by the DOJ also independently received the same rating from another rating agency."
Piper Jaffray's analysts wrote that the absence of Moody's and Fitch Ratings could be an indication of model errors specific to S&P.
"This is a political game," Atorino said, pointing to McGraw-Hill's reminder that other agencies issued similar ratings. "[The lawsuit] came right out of left field. It may or may not get to court."