McCarthy Drops Out of Race for House Speaker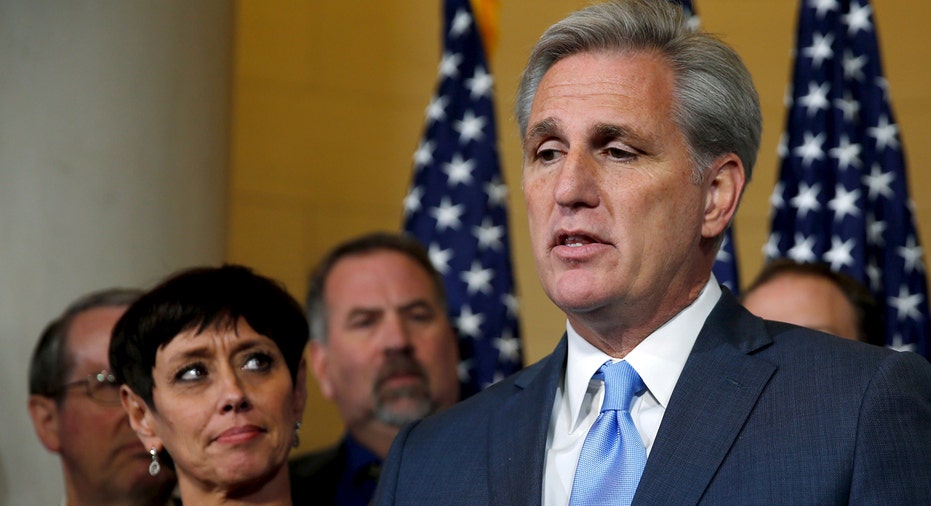 Republican Representative and current House Majority Leader Kevin McCarthy has dropped out of the race to be the next speaker of the U.S. House of Representatives, members of the chamber said on Thursday. McCarthy announced this just minutes before the election was scheduled to happen. The election is now postponed indefinitely.
According to Republican New York Representative Peter King, McCarthy said in a meeting with other Republicans, that "I am not the one at this time."
Despite dropping out of the Speaker's race, McCarthy is expected to stay on as the House Majority Leader, according to Representative Darrell Issa.
Representative and Chair of the Ways and Means Committee Paul Ryan announced that he will not be seeking the House Speaker role, but cited that McCarthy was the best person for the job. Jason Chaffetz, a Republican Representative from Utah running for the Speaker position in a long shot bid, said that McCarthy's decision was absolutely stunning and that he is still running for the Speaker's position.
Representative Daniel Webster of Florida is also in the running for House Speaker.
The Republican Party is now desperately seeking a viable candidate for the Speaker's position. After McCarthy's announcement, Republican Representative Charlie Dent said that John Boehner, currently the Speaker, is expected to stay on until a successor is elected.
The beneath statement was released by Rep Kevin McCarthy this afternoon:
"I have the deepest respect and regard for each Member of the Conference and our team as a whole. It is imperative for us to unite and work together on the challenges facing our country. Over the last week it has become clear to me that our Conference is deeply divided and needs to unite behind one leader. I have always put this Conference ahead of myself. Therefore I am withdrawing my candidacy for Speaker of the House. I look forward to working alongside my colleagues to help move our Conference's agenda and our country forward."
Current Speaker of the House John Boehner released this statement today:
""After Leader McCarthy's announcement, members of the House Republican Conference will not vote today for a new Speaker.  As I have said previously, I will serve as Speaker until the House votes to elect a new Speaker.  We will announce the date for this election at a later date, and I'm confident we will elect a new Speaker in the coming weeks.  Our conference will work together to ensure we have the strongest team possible as we continue to focus on the American people's priorities."