Mayweather vs. McGregor ticket sales trail Pacquiao fight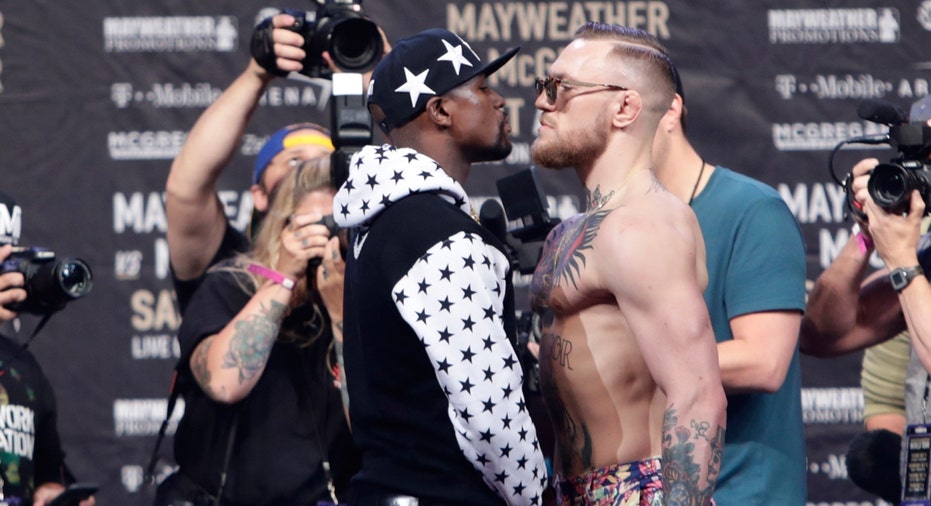 Floyd Mayweather and Conor McGregor's long-awaited boxing match this Saturday night at T-Mobile Arena in Las Vegas already ranks among the best-selling fights in the history of the secondary market – though it still trails another classic Mayweather event for the top spot, according to StubHub data.
As of Monday afternoon, Mayweather vs. McGregor ranked second among StubHub's top fights of all time in terms of overall ticket sales, with an average ticket price of $3,574. The fight has yet to surpass the sales total from Mayweather's 2015 match with rival boxer Manny Pacquiao, which carried a much-higher average ticket price of $4,456 and also brought in the richest live gate in boxing history.
"Floyd Mayweather is the most popular fighter today based on overall ticket sales on StubHub, so we expect strong demand whenever he steps into the ring," StubHub spokesperson Cameron Papp told FOX Business. "Due to various reasons – venue size, timing of other high profile fights, etc. – average ticket prices are lower than Mayweather's last fight in 2015 so this is a great opportunity to catch the legendary fighter in action at a unique event that likely won't be replicated anytime soon."
With 10 days to go before the fight, Mayweather vs. Pacquiao's overall sales were four times larger than totals at the same point for Mayweather vs. McGregor, according to StubHub data. However, Mayweather-Pacquiao tickets were also on sale for a longer period of time, so the numbers aren't perfectly comparable.
Mayweather, 40, is fighting for the first time since he retired from boxing in late 2015 with an undefeated 49-0 professional record. McGregor, 29, is a decorated mixed martial artist with a 21-3 record and multiple championship wins. He currently holds the UFC lightweight championship, but the match against Mayweather marks his first-ever professional boxing match.
Historically, Mayweather has proven to be a more lucrative draw on StubHub. His last six fights had an average ticket price of $1,484, while McGregor's last six MMA bouts had an average price of $702.
Customers in 18 countries have purchased Mayweather-McGregor tickets on StubHub. International buyers have accounted for 14% of the total sales on the secondary market ticket aggregator, compared to 12% for Mayweather-Pacquiao.