Math Shows Apple Watch Launch Beat iPhone, iPad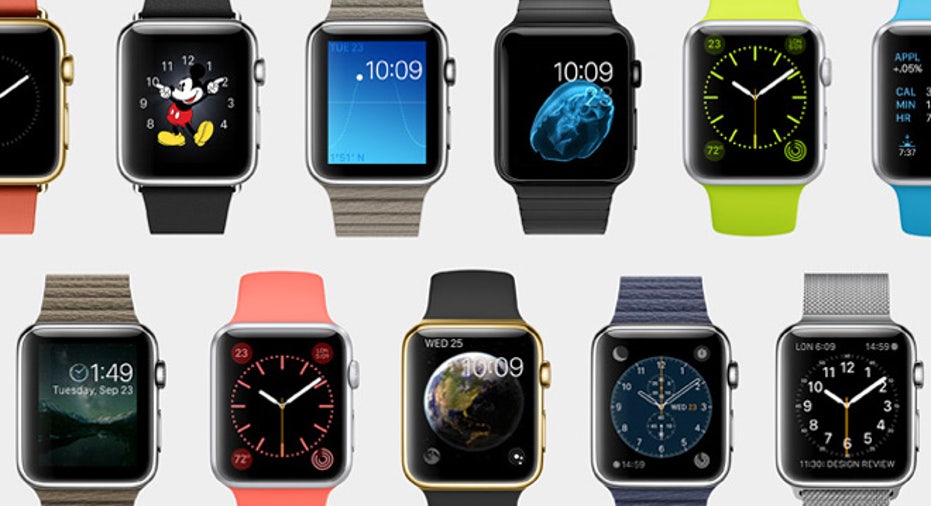 Only Apple (NASDAQ:AAPL) can post sales and profits up more than 33% year-on-year and still disappoint investors. It's hard to believe that a $49.6 billion revenue and $10.7 billion earnings quarter could trigger a sell-off in the stock.
One analyst, Daniel Ives of FBR, said Apple has become a "prove me" stock. If capturing a remarkable 92% of global smartphone profits and accumulating $200 billion in cash reserves doesn't prove the Apple ecosystem is working, I don't know what does.
While Apple's numbers indicate market share gains in just about every product, there's one device that still has everyone guessing: the Apple Watch. CEO Tim Cook and his team of merry moneymakers aren't providing concrete guidance, but there's plenty of data that shows the tech giant's first new product in half a decade is off to a great start.
First, let's talk sell-through. Nearly every reputable Wall Street analyst estimates Watch unit sales of between 2 and 3 million units for the third fiscal quarter. That's 64 days since its release, if my math is correct.
To put that in perspective, Apple sold 1 million iPhones in its first 74 days and 3 million iPads during its first 80 days, so Cook's statement that "sell-through was higher than the comparable launch periods" for both the iPhone and iPad on Tuesday's earnings call is credible. He also said the watch was still supply constrained at the end of the quarter.
And according to Re/Code, a report that Watch sales are decelerating that was widely picked up by the tech media failed to take all sales channels into account. On the contrary, research firm IDC expects shipments to "grow throughout the year" for a total of about 21 million units. Likewise, Ben Bajarin of Creative Strategies projects 20 million units for the year.
Meanwhile, Apple sold about 15 million iPads and roughly 5 million iPhones during a comparable period following their respective launches, so the Watch is expected to outsell those venerable products during its first year of production.
And while the smartwatch category is just getting started, IHS expects Apple to exit 2015 with 56% market share for the year with Samsung, LG, Pebble, Motorola and dozens of others fighting over what's left. That looks an awful lot like an Android Wear and a category killer to me.
Now let's talk about user experience. For a new product in a relatively new market, I think customer satisfaction and reviews matter just as much as, if not more than, early sales and market share numbers. Wristly pegs 97% of 800 Watch buyers surveyed as being very or somewhat satisfied, with about twice as many of the former as the latter.
While early reviewers mentioned the watch's steep learning curve, how weak and slow the third party apps were and that the first version may not be for everyone, the iPhone also had more than its share of initial detractors. Believe it or not, CNET said Apple's first smartphone didn't live up to the hype, recommended that folks wait for the sequel and gave it just 3.5 out of 5 stars.
On the flip side, reviewers showered Apple's initial smartwatch with praise, calling it "the best experience of any smartwatch tested," "the world's best smartwatch" and "light-years better than any of the feeble, clunky efforts that have come before it."
And after wearing it for a month, the venerable Walt Mossberg likened it to the first version of the iPhone, gave it a thumbs up and called it "a very good product – with a chance to be great."
If Apple Watch is killing it out of the gate, the question remains, why is Apple breaking from its tradition of sharing early sell-through numbers? Even the maniacally secretive Steve Jobs boasted about initial sales numbers for the iPhone and iPad.
Cook says they decided early on not to share that data with competitors, but that doesn't pass the smell test. Since when does Apple concern itself with the competition when launching a new product?
The answer may have more to do with the maturity of the company than the watch. While a hallmark of Apple is its laser-like focus on very few products – and it's principally an iPhone company – it's got a lot more going on than it did back in the day. There are new platforms like CarPlay, HomeKit and HealthKit and new services such as Apple Pay, Apple Music and the long-awaited streaming TV service. And expectations are high.
As important as Apple Watch is to Cook and the company, it's still little more than a blip on the revenue radar. If this is Apple's way of toning down the hype until it comes into its own as a product deserving of the limelight, I think that's actually a fairly sensible strategy, assuming it doesn't dampen the enthusiasm of third-party app developers.
In any case, Cook is absolutely right when he says that Apple is firing on all cylinders. Its ecosystem has become a force of nature. If the watch just gives users another reason to remain in the fold or iSwitch from Droid to iOS, I'd call that "mission accomplished."