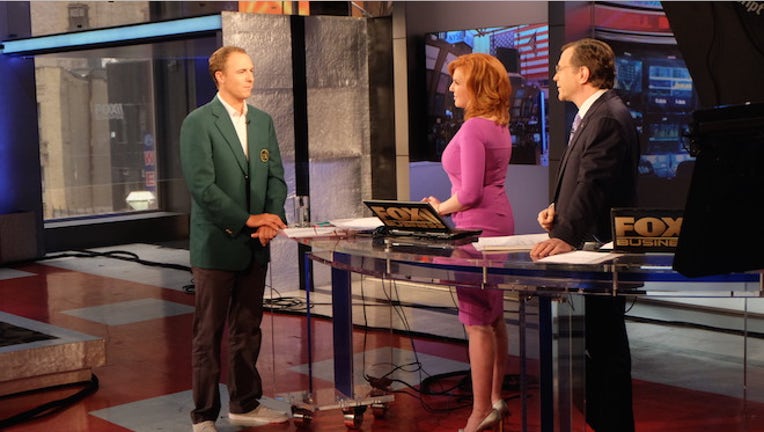 Jordan Spieth, the 2015 Masters Tournament champion, was just doing his job.
The 21-year-old phenom had a record-breaking run at Augusta National to win his first major championship. Spieth kicked off the Masters at 8-under par, the best opening round in 19 years.
He never looked back. Matching Tiger Woods' mark for the best overall performance at the Masters, Spieth capped the tournament Sunday at 18-under 270 to beat Phil Mickelson and Justin Rose by four strokes.
But the humble Dallas native said winning on the golf course is exactly what Under Armour (NYSE:UA), which signed him to a new 10-year endorsement deal in January, expects him to do.
"To be honest, with this extension came expectations. I feel this was an expectation of theirs…to win major championships," Spieth said during an interview on the FOX Business Network. "I don't feel like I went above and beyond what that company expected of me."
With Spieth's incredible Masters run, Under Armour scored a major victory over rival apparel makers like Nike (NYSE:NKE). The brand has long played second fiddle on the golf course. In the race to sign Rory McIlroy, the top-ranked player in the world, Under Armour lost to longtime Woods sponsor Nike.
Under Armour first brought Spieth into the fold shortly after he turned pro in December 2012. Now Spieth is easily the biggest golf name, not to mention one of the top athletes in Under Armour's portfolio.
Speaking on After the Bell, Spieth said he believes Under Armour took a chance when the company signed him.
"When I came out of school, I didn't have any status," Spieth added. "I couldn't be more excited by the partnership."
The championship moved Spieth up the rankings. He is now the No. 2 golfer in the world, ahead of Henrik Stenson, Bubba Watson and Jason Day. In the 2014 Masters, Spieth finished second behind Watson.
Spieth suggested his loss to Watson a year ago was partly due to a lack of patience on his part, and he took it as a lesson. This year, Spieth kept his composure from start to finish, and he became the fifth golfer in history to win the Masters wire-to-wire.
"I took any experience I had and applied it to that golf course," Spieth said of Augusta National.
Spieth continued to say he's enjoying the business side of golf and will be open to new opportunities that come his way after winning the Masters. He plans to get involved in designing golf course after finishing his career, similar to golf legends Jack Nicklaus, Greg Norman and Ben Crenshaw.
Spieth currently works with The First Tee, a youth golf program. He said The First Tee and other groups are promoting golf by providing lower-income households with opportunities to "go out and enjoy the game."