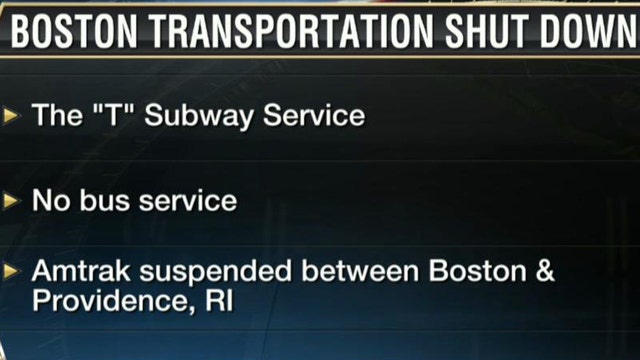 Mass transit has been shut down in Boston and is being impacted across the Northeast on Friday as authorities undergo a massive manhunt for the second Boston bombing suspect who has been on the run since late last night.
The Massachusetts Bay Transportation Authority has suspended all service on all modes of transportation in Boston, including the "T" subway system and public buses.
Privately-held Greyhound Bus says its Boston terminal is closed "until further notice" due to police activity. Schedules into Boston are also canceled, it said.
Taxi service had been suspended in Boston, but has resumed.
Residents in Boston are being ordered to stay indoors, with the MBTA's official Twitter account telling residents to "stay inside and stay safe."
"Please DO NOT wait at bus and station stops," the MBTA said.
Police have formed a wide perimeter on the search for the suspect, identified as Dzhokhar A. Tsarnaev, 19, of Cambridge, Mass.,  and warn he is likely armed and dangerous.
Meanwhile, Amtrak has indefinitely suspended service on the Acela Express and Northeast Regional lines between Providence, Rhode Island and Boston as well as New York to Boston at the "request of local authorities."
The Amtrak Downeaster is operating on a modified schedule with no service to Boston, while Amtrak service between Washington D.C., Philadelphia and New York continue to operate normally. The Springfield Shuttle between New Haven, Conn. and Springfield, Mass. are also running on a normal schedule.
The express train service said a decision regarding the restoration of service into the Boston area will be announced once it is given the nod by local authorities.
Metro North, which operates on many of the same railroad tracks as Amtrak, previously had a 45 minute delay on its Upper New Haven Line Service due to "earlier police activity in the area" south of Norwalk, however it has since said the line is now running close to normal.
While the FAA has limited some airspace above Boston, Logan International is open, though it is operating under "heightened security." It encourages travelers to "check with your airline on flight status before heading to the airport." Logan says taxis are available but are in "high demand."
Logan's largest airline, JetBlue (NASDAQ:JBLU) is allowing passengers scheduled to fly to or from Boston to change their ticket for free. Other airlines are waiving fees as well.
"Airlines are waiving change fees for folks unable to get to the airport today," Boston's Logan announced on Twitter.
The Port Authority of New York and New Jersey says it remains "on a heightened state of alert."
The New York Police Department increased its terrorism unit this week in the aftermath of the Boston bombing that killed three people and injured 160.