Marlins shopping Giancarlo Stanton, MLB's $325M star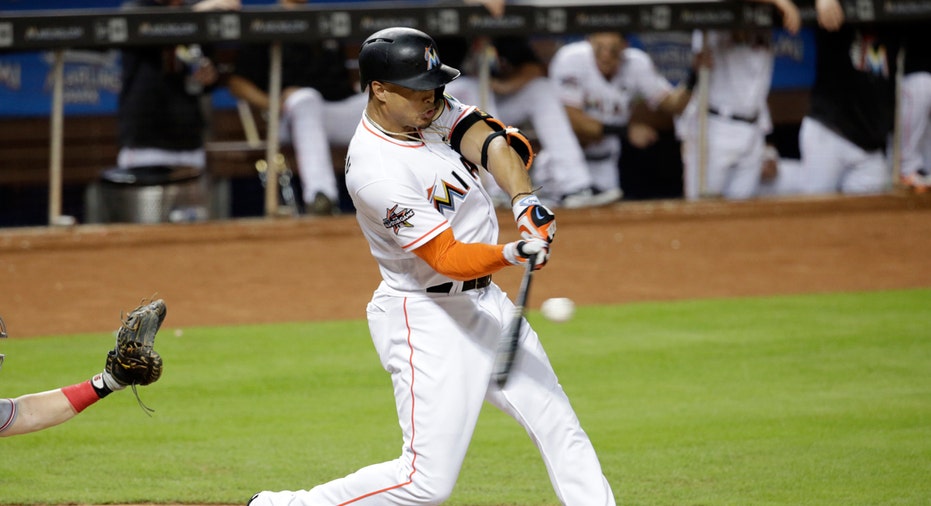 New Miami Marlins CEO Derek Jeter says the franchise is exploring trade offers for outfielder Giancarlo Stanton, the highest-paid player in baseball, as part of a bid to reverse the team's recent financial issues.
Ahead of the first major league owners' meeting since Bruce Sherman's group bought the team last month and put the former New York Yankees captain in charge, Jeter said he has not spoken yet with Stanton.
Jeter says "a lot of this started when he came out and expressed publicly that he didn't want to be part of a rebuild."
Stanton signed a 13-year contract in 2014 for a record $325 million. He will not be a free agent again until 2029, when he will be 40 years old.
Stanton is guaranteed $295 million over the remaining 10 years of his contract. He had the best season of his MLB career in 2017, setting personal bests with 59 home runs and 132 runs batted in.
Jeter says "it's an organization that's been losing money for quite some time, so we have to turn that around" and adds "it's easy to point the finger at him, because he makes the most money, but that doesn't necessarily mean that that's the move that's going to be made."
The Yankee great was part of a group of investors that purchased the Marlins for $1.2 billion. The deal was finalized in October.
The Marlins have ranked near the bottom of MLB attendance for the last four seasons and operated at a loss for three of the last five years, according to Forbes.
The Associated Press contributed to this report.