Manziel's Personal Issues Should Be Focus Over Comeback: Agent Steinberg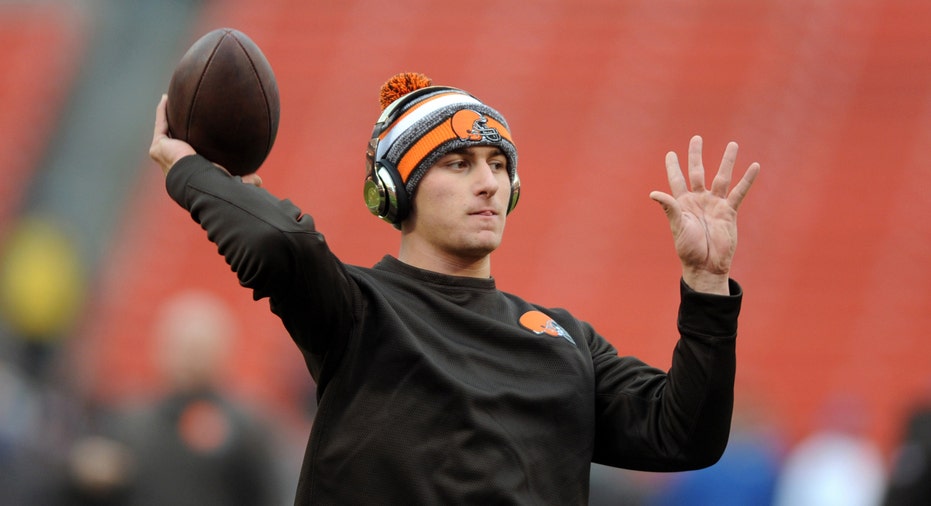 Longtime NFL agent Leigh Steinberg, in the midst of a career renaissance after a battle with alcohol abuse nearly destroyed his business, has some advice on how troubled quarterback Johnny Manziel can resurrect his own pro football career.
Steinberg, 67, says Manziel has to regain control of his personal life before he can recapture the on-field success he enjoyed as a top college prospect. After a storied career at Texas A&M University, Manziel, known to his fans as "Johnny Football," has seen his pro career derailed by on-field struggles and  a series of off-field incidents. The Cleveland Browns waived Manziel in March, two months after police responded to a domestic incident between him and his then-girlfriend, Colleen Crowley.
"In that situation, I've always thought that it's much more about saving his life than resurrecting his football career," Steinberg said during an appearance on the FOX Business Network Friday morning. "What he's got to do first, if he has a problem with substance abuse and he went into rehab, is to address that first and put that above everything else."
Like Manziel, Steinberg saw his once-promising career upended by personal issues. Steinberg was one of the NFL's most prolific agents throughout the 1990s, representing a stable of the league's top draft picks and stars. He served as a consultant and the inspiration for the 1996 film "Jerry McGuire," starring Tom Cruise.
But Steinberg struggled with alcohol through the early 2000s and eventually declared bankruptcy in 2012. After getting help, Steinberg rededicated himself to his business. Today, he is six years sober, running a sports agency and venture capital firm, and representing one of the 2016 NFL Draft's top prospects, former Memphis quarterback Paxton Lynch.
"When I went back to try to deal with my drinking problems, sobriety was first in everything," Steinberg said. "After that, I knew that I'd be able to get back to a career. But nothing's more important than committing yourself to a 12-step program with unique fellowship."
The Cleveland Browns selected Manziel in the first round of the 2014 NFL Draft, but the former college standout struggled to crack the starting lineup during a disappointing rookie campaign. Manziel took over as starter late in the 2014 season, but was benched for the Browns' final contest after he missed a practice. Public perceptions about Manziel's penchant for partying and off-field antics worsened amid rumors that he was unprepared to run the team's offense.
Manziel entered a rehab clinic to deal with unspecified issues in January 2015 and appeared to rededicate himself to football. He showed flashes of potential on the field, but was benched once again after he admitted to lying to team officials about a video of him partying was posted to social media during the Browns' bye week. Manziel eventually returned to the starting lineup, but was once again on the bench in Week 17 amid rumors that he partied in Las Vegas hours before kickoff.
The Browns announced plans to cut ties with Manziel in early February, days after he was cited in connection to the domestic incident. Manziel has yet to sign with a new team and has been spotted partying in Las Vegas throughout the offseason.
ESPN (NYSE:DIS) reported Thursday that Denver Broncos head coach Gary Kubiak had reached out to Manziel, but it's unclear if the team is interested in signing him.