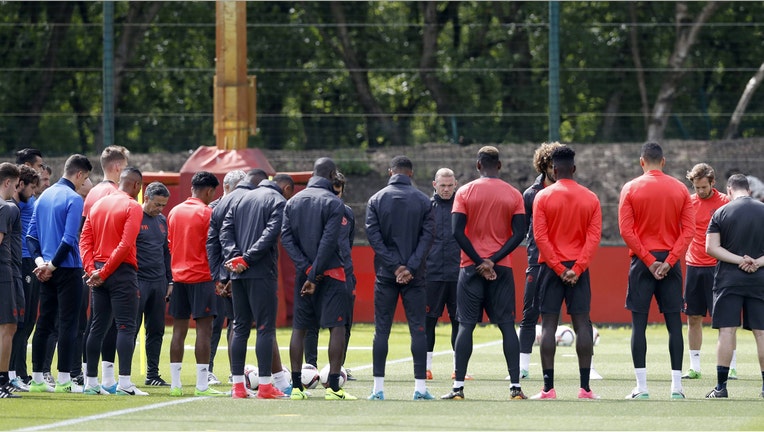 The United Kingdom-based Manchester United soccer team held a mid-practice moment of silence and canceled other team activities on Tuesday out of deference to the victims of the deadly concert bombing in the club's home city.
"Everyone at Manchester United is deeply shocked by last night's terrible events at the Manchester Arena," the team said in a statement. "Our thoughts and prayers go out to all those affected, including our supporters, club staff and members of our community such as the children from our Manchester United Foundation partner schools who were attending the concert at the Arena. Club staff are ready to help the police and other emergency services in any way that may be required at this challenging time for our city."
A suicide bombing attack killed 22 people and injured 59 others at an Ariana Grande concert Monday night held at Manchester Arena. The Islamic State claimed responsibility for the attack. British Prime Minister Theresa May condemned the bombing as an act of "appalling, sickening cowardice."
Manchester United canceled a press conference that was scheduled to occur on Tuesday evening, before the soccer club flew to Stockholm, Sweden to play in the Europa League championship, Sky News reported. The organization also closed some team facilities to the public.
The Manchester City soccer club, also based in the British city, said its home arena, Etihad Stadium, was being used as a support center to aid those affected by the attack.
"The thoughts and prayers of our ownership, Board and everyone at Manchester City are with the people of Manchester and all those affected following the horrifying events of last night's Manchester Arena attack," the team said in a statement. "We have offered our full support throughout the night and this morning to the leaders of the City of Manchester itself and to the Emergency Services who are doing so much to support our city in these most challenging of circumstances."