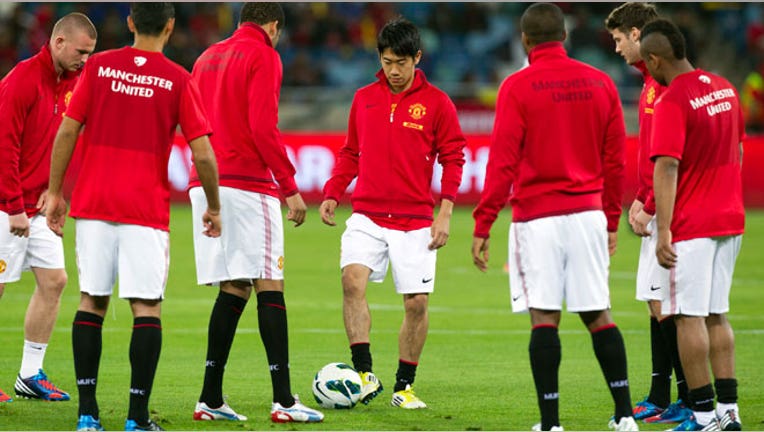 English soccer team Manchester United set the terms for its U.S. initial public offering on Monday saying it will offer 16.67 million shares at between $16 and $20 each, which values the club at $3.3 billion at the top of the range.
Manchester United has been struggling with a hefty debt burden ever since being acquired by the family of Florida-based businessman Malcolm Glazer and his family in 2005.
The club and the Glazers each will be selling half their shares each in an offering that will raise as much as $333 million. The club's proceeds from the IPO will be used to reduce its debt.
The IPO may be a tough sell in the United States given the lack of U.S. publicly traded sports teams to compare Manchester United against and given that many Americans don't regard soccer as a top sport. But the details of the sale were announced just as it was revealed that the club had signed a 7-year sponsorship deal with General Motors Co to have the Chevrolet brand on their shirts starting in 2014. The deal is worth roughly $600 million, Reuters reported.
The club had filed to raise up to $100 million in its IPO of Class A stock earlier this month. Manchester's United will kick off a two-week investor roadshow on Wednesday, with stops expected in the United States, Europe and Asia, according to a source familiar with the company's plans who was not authorized to speak publicly about them. The road show stops will be done concurrently, with separate management teams covering different geographies. Pricing is expected on August 9. The team chose to list in the United States after scrapping listings in Singapore and Hong Kong. It had originally looked to raise as much as $1 billion in Singapore. "I'm a little concerned that the offering couldn't be done initially and now all of a sudden it has a heartbeat,'' said David Menlow, president of IPO Financial which tracks IPOs. "The mentality with sports teams is that people like owning a piece as a trophy investment, but will it live up to expectations?"
The Glazers also own the U.S. football team the Tampa Bay Buccaneers. They will retain control after the sale because their Class B shares will have 10 times the voting power of average investors' Class A shares.
Jefferies Group Inc is the lead book runner in the syndicate, which also includes Credit Suisse, JPMorgan Chase (NYSE:JPM), Bank of America Merrill Lynch (NYSE:BAC) and Deutsche Bank. The company will list on the New York Stock Exchange under the ticker "MANU.'' Morgan Stanley bowed out of bringing the deal to market when Manchester United decided to list in the United States.