Making Children's Books 'Pop' Out With iPads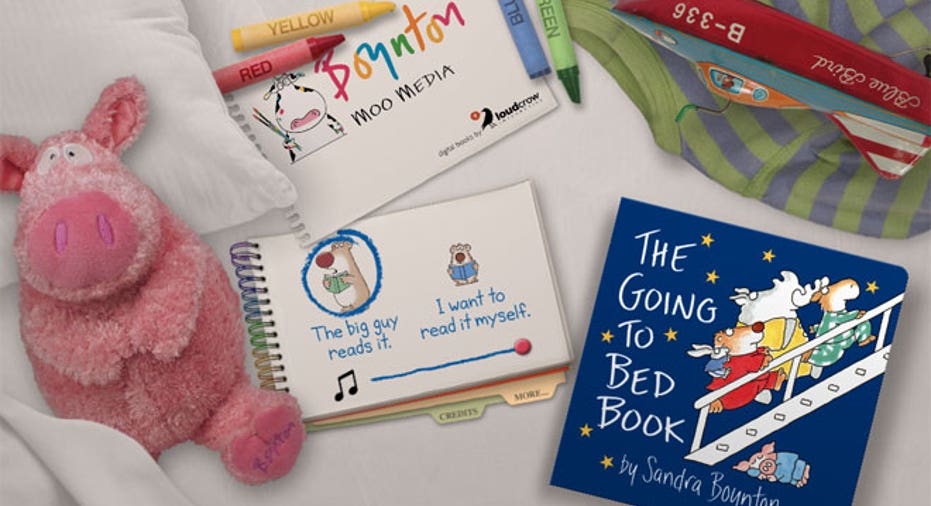 How does an author or a digital publisher stand out amid the clutter and competition in a virtual bookstore? As one startup found out, it helps to have your work literally "pop out."
PopOut! is not only a strategy, it's a brand name that one start-up digital publisher is using to rise above its competitors.
Loud Crow Interactive made noise last fall with its ambitious debut on Apple's App Store:PopOut! The Tale of Peter Rabbit.
"The inspiration was watching my daughter and her friends playing with old pop-up books with movable tabs. They were absorbed in this book," explains Loud Crow founder and CEO Calvin Wang. "We're in an age with multi-touch screens and if we can emulate that experience, it will create compelling content."
Creating immersive experiences that users want to repeat frequently is right up Wang and his Vancouver-based team's alley. They are all veterans of the video game world, having worked at the cross-town studio of Electronic Arts.
Loud Crow scored big with its first title, grabbing the attention of readers, reviewers, and even writers.
Noted children's author and cartoonist Sandra Boynton was so impressed by Loud Crow's work she hired them to bring her stable of iconic, whimsical characters to life in the digital world.
Check out FBN's interview with Boynton
"They had auditioned without knowing it with their first app," Boynton said. The author had looked in vain for months for a partner on a digital publication before discovering the Peter Rabbit app.
The first fruits of their collaboration have been borne as The Going to Bed Book debuted today on Apple's App Store ($1.99 for iPhone/iTouch, $2.99 for iPad). It's the first Boynton board book to get the digital treatment and Loud Crow says they are in talks with other platforms for distribution.
Unlike many children and adult electronic titles, this is not simply a digital facsimile of a paper book to be read by a narrator -- in this case British invasion singer Billy J. Kramer.
The app challenges youngsters and parents to interact with the story by manipulating the characters or unlocking secret "surprises" hidden within the animation.
One of the unexpected highlights features several species of small and large furry animals gathered together in the boat's bathroom brushing their teeth. This is where Loud Crow shows off its ability to add new dimensions to an existing storyline and a familiar scene to many fans. }
Users can help the characters brush round and round with the touch of a finger. The tactile experience draws readers into the scene by allowing them to turn on the hot water. Then the device's screen steams over so you can write your name on the tablet in the same squeaky, streaky fashion as if it were a steamed-over bathroom mirror.
"They're taking advantage of what the iPad can do without subverting the story," Boynton says. "Other people are thinking about the market, Loud Crow is thinking about the experience of it.
"Most of them are parents with young children, and a video game background gives them a perfect synergy. They are used to thinking as parents of the reader. As video game developers they are used to thinking of the user."
Some book lovers may be skeptical of marrying video games with books, but Loud Crow won over some critics with the Peter Rabbit storybook's interactive experience of giggling bunnies, virtual tab movements, and hidden surprises such as leaves and blackberries that literally popped out of the "book's pages" and onto the screen.
In fact, Kirkus Reviews gave Loud Crow's Peter Rabbit App a coveted gold star review and named it the best children's book app of 2010.
"People from a book background often look down at games as a lower form of entertainment", says Vicky Smith, Children's Editor at Kirkus Reviews. "I think it helps."
Smith adds, "They've done amazing things without compromising the integrity of the original stories. They've made the experience a different one and they've done it without cheapening the story."
In a sign of the times, the venerable literary review has started a children's app Discovery Engine utilizing You Tube. It aims to help parents sort through the virtual plethora of digital titles with a video preview alongside a review of book apps.
New services such as this may help authors and publishers cut through the clutter that concerns even well-known content creators.
Sandra Boynton has sold millions of books and cds. But even with household name recognition she's concerned about being found by readers who don't know to search for her app. "The App Store is cluttered and not easy to search. There's a lot of confusion between an e-book and an app. So the App Store description says it goes beyond the normal e-book so it comes up (in searches). The hope is word of mouth spreads."
Nielsen's BookScan data show just about a quarter of the 717.5 million books sold in the US last year were juvenile titles.  But sales in the children's digital genre are much more robust.
Mobclix, which tracks and reports on approved apps from Apple's Appstore, said paid book apps for kids occupy 21 of the top 25 bestselling spots and 42 of the top 100. Apple famously does not disclose sales figures, so getting hard sales data on the nascent market is purposely difficult."
Adults are obviously paying for digital versions of children's books, but there is some concern over whether the kids are actually reading them.
"I'm in a wait and see mode as we don't know how kids will take to devices and e-books, and whether they're reading e-books when there are a billion versions of Angry Birds for them to play," says Michael Norris, a senior analyst at market research firm Simba Information.
Norris notes that many young children interact with paper books differently than older readers—often biting and shredding board books or throwing them on the floor.
He presumes most parents hope to avoid that fate with their tablet computers: "If kids are going to interact with books on $500 iPads, they won't have as much time interacting with them."
Board book creator Boynton says she wants to supplement, not supplant paper book sales with less expensive apps: "The thing I always want to do is direct people to physical books. In the credits it's always there. I think that's important."
While sales are picking up and kid apps are popular, is the business profitable? Loud Crow would not provide financial details, but the publisher's CEO says sales of Peter Rabbit have been strong enough to allow the company to remain independent.
Wang says venture capital investors have approached the firm, but Loud Crow has no plans to take on outside partners at this point. "We're in a unique situation," he explains, "We've started to make a name for ourselves. We have great products and cash flow to date, so in some ways we don't need that financing, especially once we expand our product line."
Loud Crow is already putting to bed its next Boynton adventure, her best-selling title of all-time "Moo, Baa, La, La, La." Wang says it should go live in the next six weeks or so. He also admits that profit margins are lower when they take on new projects, but these should expand over time as they grow their technology and catalogue.
Boynton is excited about the medium's possibilities as she hatches plans with Loud Crow for original content in app-form before it hits print. "We'd like to do the song 'Cows' (from the Philadelphia Chickens album that just achieved platinum status). The book doesn't exist yet, but would digitally first. You could read it and maybe be able to do notations and play instruments with it."
And it's this ability to truly interact with creative, original content that may open the floodgates to even more authors and artists, giving digital sales a bigger pop.
Smith of Kirkus Reviews says, "The potential is enormous. I hope as people like Sandra Boynton look into making new material in the app format it will give other people permission to jump in and paddle around."