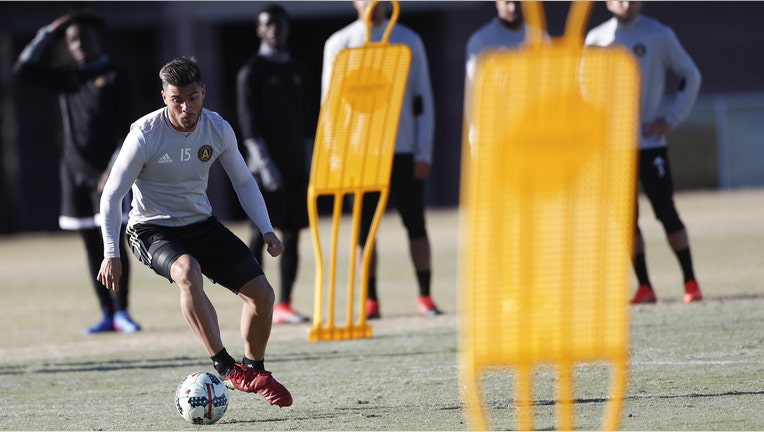 Major League Soccer's push to assert itself as one of the United States' top sports attractions enters its most important phase this weekend with the debut of its two newest franchises – Atlanta United F.C. and Minnesota United F.C.
After years as a footnote to mainstream leagues like the NFL and MLB, MLS has experienced massive growth in the last decade. MLS franchises are now worth an average of $185 million – a 400% increase since 2008, according to Forbes. Attendance at MLS games reached a record high average of 21,692 for the 2016 season, up 40% from 2007.
To capitalize on a growing profile, MLS has set a daunting pace for its planned expansion. The league plans to add a second Los Angeles-based team -- its 23rd franchise -- in 2018, with an ultimate goal of 28 permanent teams in the future. MLS faces the twofold challenge of reaching new fans in a competitive national sports scene while distinguishing itself from established soccer leagues in Europe and Latin America.
"Part of increasing the profile of our league is growing in scale and adding teams. When you're a 10-team league, it can be challenging," MLS Executive Vice President Dan Courtemanche told FOX Business. "Now that we're at 22 teams and continuing to grow, it has certainly elevated the profile of the league and really positioned the United States and Canada as two rising soccer nations."
Entering the league's 22nd year in existence, executives know that a misstep in even one new city would be a critical setback. MLS focuses on three attributes when vetting potential markets for expansion – a strong ownership group, a vibrant city that can draw fans and appeal to corporate sponsors, and a viable plan for a soccer-specific stadium that can become a destination site, according to Courtemanche.
This season's expansion teams in Minnesota and Atlanta are cookie-cutter examples of the MLS philosophy. Both franchises are owned by top business executives – former UnitedHealth Group CEO William McGuire in Minnesota and Home Depot co-founder Arthur Blank in Atlanta. Both teams will be playing in brand-new stadiums by the end of the 2018 season.
Blank's involvement in the Atlanta project has been an "overwhelming advantage" to the team's development, according to Darren Eales, team president of Atlanta United FC and former executive with Tottenham Hotspur of United Kingdom's Premier League.
"[Blank] has given so much to the city – he's proven that over his time in Atlanta," Eales told FOX Business. "That gave us instant credibility as a franchise coming in, because we have Arthur Blank as our owner."
Aside from Atlanta's new MLS team, Blank owns the NFL's Atlanta Falcons. Atlanta United will play at Mercedes-Benz Stadium, a brand-new multi-sport facility, when it opens this summer.
Eales and his team relied on a grassroots marketing campaign at major soccer events like the World Cup and Copa America Centenario to drive the most-successful presale of season tickets in MLS history. To date, the team has sold more than 30,000 season tickets. Demand has been so strong that Atlanta United is expanding the seating capacity at its games to accommodate it.
But like all expansion teams, Atlanta United is experiencing some growing pains. Staffers have been scrambling to prepare Atlanta United's temporary home, Georgia Tech's Bobby Dodd Stadium, while also ramping up similar efforts at the team's eventual permanent home. Eales said the team recognizes the only way to maintain fan interest is to win on the field – a tall order for a fledgling roster that has only existed for a few months.
As MLS grows, roster development will be a challenge for every new team – especially when teams in top leagues from Europe are often composed entirely of star players.
To meet the demand, Courtemanche said MLS is focusing on strategic investment in team-owned youth academies to develop home-grown stars, such as 2016 MLS Rookie of the Year Jordan Morris of the Seattle Sounders. MLS teams are also targeting star players with international followings, such as Spanish footballer David Villa of NYCFC and Brazilian star Kaka of Orlando City SC, to attract fans abroad.
In addition, the league has also placed an emphasis on forming partnerships with international broadcasters like Sky Sports in the U.K. or FOX Latin America. At present, MLS matches can be seen on television in 170 countries.
"Soccer is a global sport with thousands of professional players throughout the world, so it's a massive global talent pool," Courtemanche said. "It's an open market."