Majestic Outfitting Players and Fans at MLB All-Star Game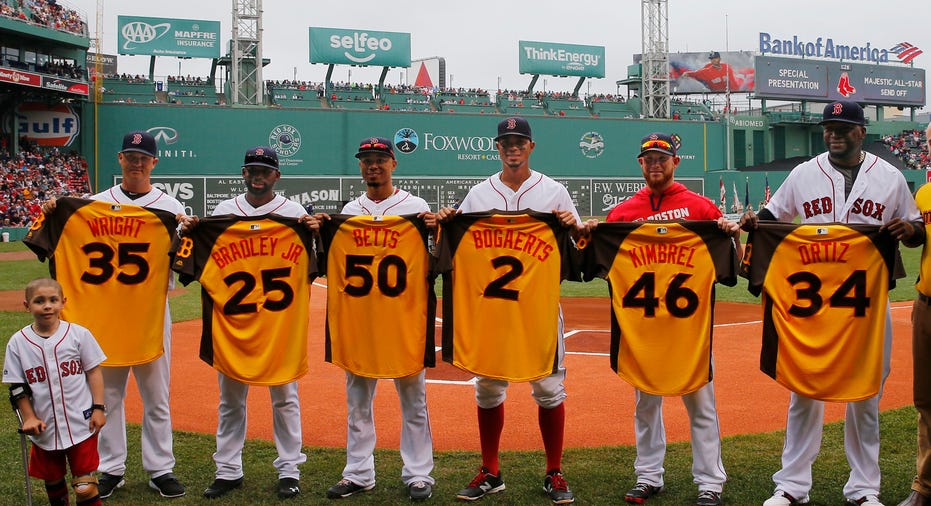 Majestic Athletic is outfitting both players and fans at the 2016 MLB All-Star Game, giving the brand a large presence in San Diego this week.
The official uniform maker of MLB has the largest footprint at FanFest, the league's massive event for baseball clinics and autograph sessions. Inside the San Diego Convention Center near Petco Park, Majestic is operating a customization station where fans can buy personalized All-Star jerseys. The sportswear brand has retail booths in front of the Petco Park, too.
Majestic is also paying homage to the large military community in San Diego. As part of its "Salute to the Military" during All-Star Week, Majestic sold baseball gear last week at a pop-up shop on the USS Midway, the aircraft carrier preserved as a museum. The company donated t-shirts to military personnel and their families at local bases like Camp Pendleton and Naval Base Coronado.
Majestic's All-Star Game plans "are all about building awareness and getting fans to experience our brand and products," said Jim Pisani, president of VF Licensed Sports Group and Majestic Athletic. "What we're really excited about is the Majestic shop on the USS Midway. We're excited to showcase our brand in that manner."
The fan activities in San Diego tie into Majestic's "My Team, My Colors" campaign, which kicked off with the start of spring training. "It's all about wearing the team and players you love," Pisani said.
Fan engagement is key, but Majestic must first take care of the players taking part in Tuesday's All-Star Game.
Majestic, owned by VF Corp. (NYSE:VFC), has made game-worn gear since 1982. Majestic extended its sponsorship agreement with MLB last year, reaching a new contract that lasts through 2019. Majestic, which sells a wide array of licensed apparel for consumers, retained exclusive rights to provide the uniforms that players wear on the field.
MLB's All-Stars will wear special workout uniforms inspired by the San Diego Padres' brown-and-yellow color scheme from the 1980s. During the game, players will showcase their own team jerseys, but Majestic will add two gold stars alongside the MLB logo, All-Star Game patches and player signatures.
It's a quick turnaround for Majestic's uniform production staff in Easton, Penn. The All-Star rosters were announced the evening of July 5, and replacements for injured players are added to the rosters in the days leading up to the Midsummer Classic. Majestic is also in its 20th season of making jerseys specifically for the Home Run Derby, which will take place Monday night.
Designers and merchandisers work a year in advance on All-Star Game uniforms, creating different style options. With a design selected, Majestic's facility in Pennsylvania will pre-cut jerseys and prepare them for names and numbers that are sewed on once the All-Stars are revealed. Majestic will often hand-deliver the uniforms to ensure their safe and timely arrival.
"From manufacturing to design, there's a lot that goes into this. It doesn't happen overnight. But we have a great team in Easton and Tampa, Fla.," Pisani said.
He added that all of Majestic's MLB uniforms are made in the U.S., a point of pride for the company and America's pastime.