Macy's Shares Slammed as Execs Try to Quell Investor Concern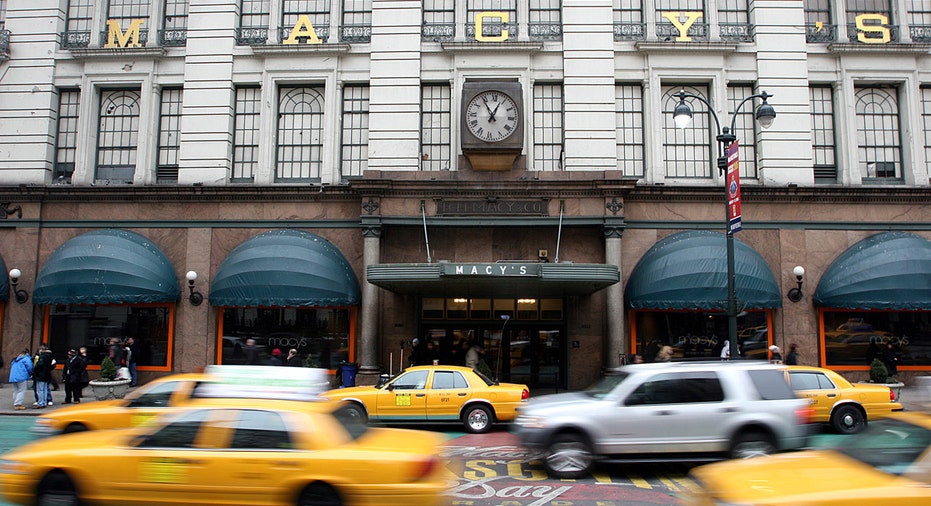 On an earnings call Wednesday, Macy's (NYSE:M) executives tried to quell investor concern after the company reported unexpectedly weak revenue figures in the third quarter thanks to a range of factors from the stronger U.S. dollar to unseasonably warm weather across the nation.
At one point, CEO Terry Lundgren told participants on the call that this drop off in consumer spending was "absolutely not" comparable to the decline in spending the retailer saw after the collapse of Lehman Brothers during the height of the financial crisis in 2008.
After the hour-and-a-half long conference call, investors were not appeased. Shares of Macy's dropped 15% to a new 52-week low of 39.75 as traders fretted what the slowdown signals not only for the company, but the industry as a whole.
Macy's reported third-quarter adjusted earnings per share of 56 cents, topping expectations by two pennies. Revenue of $5.87 billion came in under forecasts for $6.09 billion, a 5.2% decline from the $6.20 billion the company earned during the same period last year.
Moreover, comparable store sales for owned and licensed locations, on a year-to-date basis are down 1.7%. For company-owned stores, comp sales fell 2.2% year over year.
The retailer also updated its full-year guidance, now calling for earnings per share in the range of $4.20 - $4.30, down from a previously-announced estimate of $4.70 - $4.80. Meanwhile, 2015 comp sales of its owned and licensed stores is expected to decrease by 1.8% to 2.2%, compared to previously flat guidance.
Lundgren, in a statement, said the company is working to accelerate the steps needed to adapt to a changing consumer. He said the goal is to restore annual comp sales growth to the 2% - 3% level.
"This includes building on our strength as a leading omnichannel innovator with consistent growth in online sales. No other retailer has our track record of mastering change and creating shareholder value with a model of consumer centricity," he said.
Changing Face of Retail
Macy's reiterated several times the need to attract and retain new and existing consumers both in its brick-and-mortar locations and through its online offerings as shopping-experience tastes continue to evolve.
"We intend to fully push the digital frontier utilizing our innovative culture with more and more testing and learning," Lundgren said on the call.
To do that, the company offers same-day delivery and pick-ups in store for online orders; is piloting a new approach to jewelry and watches this fall; a partnership with LensCrafters to open optical departments in 500 Macy's stores; pushing more store-in-store experiences including less-expensive and specialized merchandise offerings ; and concentrating resources on the company's top-performing stores by closing between 35 – 40 stores in 2016.
"We expect part of the reduction to result from a greater use of technology. We will also reduce capital spending for the next year to be more similar around the billion-dollar range and that compares to $1.2 billion we expect to spend this year, which is the right decision for us to make after the challenging year we are having," Lundgren said.
On par with its effort to offer more specialized approaches to attract a younger clientele, Macy's said it plans to open 53 Backstage stores over the next two years as well as incorporating it with existing retail locations, alongside plans for 16 new Bluemercury shops.
Effriam Levy, equity analyst at S&P Capital IQ,  reiterated his "hold" rating on the stock, and lowered its 12-month price target to $13 from $47.  Levy said there's less visibility as to whether the millennial strategy will succeed for Macy's since those consumers are still looking for deals. He said, though, the Backstage offerings are attractive, and though they'll start out small, they could grow over time.
"I happen to like the idea of stores within stores. If you have a space that's available that's not performing as well, you can swap it out with something that will perform better and bring in new customers. I view that positively," he said. "They're testing different things. The new store formats offer further opportunities for growth."
Still analysts on the earnings call worried whether the newer store-in-store efforts were allowing Macy's to move too far from its core business and core consumers. To that, Lundgren said there's no reason to fret.
"It's the core business that did not perform all these other initiatives cannot make up the difference. We have to perform in the core business I can assure you there's a small group of people under the leadership of Peter that are totally dedicated to these other subjects and have nothing to do with the core business and vice a versa," he said.
Sales Impediments
While unusually severe winter weather has had an impact on the retailer's quarterly results at the beginning and end of the year, this time around it was unseasonably warm weather so late in the game that helped dent Macy's sales figures.
"Our sales of cold-weather merchandise such as coats, sweaters, boots, etc. were significantly below last year in the quarter," Karen Hoguet, Macy's Chief Financial Officer, said on the call.
Lundgren elaborated on that, saying the company has a buildup of outerwear, boots, down comforters – but as to when consumers will come looking for it is anyone's guess. The bigger problem for the store is when discounting season rolls around, consumers could end up putting off those purchases in hopes of scoring those items at a cheaper price.
"You want to believe it eventually is going to get cold. So when it does, the consumers will traditionally have reacted to that…At some point we will [have to mark down the inventory] but you'd like to be able to get some of that business in the higher-margin and higher average retail early," he said.
Levy added that as much as Macy's would like to see colder weather help boost sales – it's a battle of wills between Old Man Winter and consumers.
"It will get colder and people will buy more clothing…the question is will they be fortunate enough as a consumer to pick it up after discounts or before."
Also weighing on the retailer are persisting effects from a stronger dollar, which has kept international tourists from visiting and spending money at American Macy's locations. But Levy said that's likely a problem that will eventually be minimized in the coming quarters.
He added that in general, the drop off in consumer spending shouldn't worry investors too much since in general consumers have been feeling pretty good and are willing to spend their money.
"Particularly the auto industry is doing very well. So, the money for large expenses is out there. There are pockets of consumers that are lagging,, and they have to be cautious, but the negative environment for the consumer is not there," he said. "The question right now is how are they spending their money and right now apparel is just not popular. They'd rather buy iPhones, iPads, and other gadgets."