Lured by Deals, Shoppers Shatter Black Friday Sales Records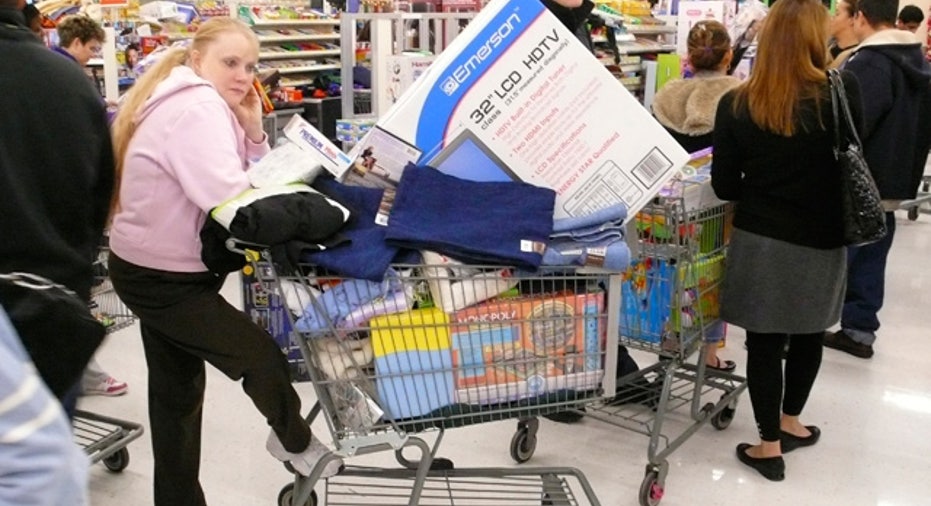 Despite the sluggish economy, Black Friday weekend shattered retail records this year as a quarter of a billion shoppers spent $52 billion in the annual kickoff to the holiday-shopping season.
According to a study by the National Retail Federation, the average holiday shopper shelled out $398.62 this past weekend, up 9.1% from a year ago.
The report said 226 million people hit the stores or the web over Black Friday weekend, up 6.6% from 2010.
"Stuffed to the brim from their holiday meals and eager to shop, more consumers than ever turned out for retailers' Black Friday promotions, a promising sign for the economic recovery," NRF CEO Matthew Shay said in a statement.
Of course, retailers lured Americans to the stores with heavy discounts that also likely ate into the companies' bottom lines. Incentives impact on profit margins won't be known for some time.
Still, the news was cheered by Wall Street as the Dow Jones Industrial Average was set to surge nearly 300 points at Monday's open, partially in response to the bullish sales data.
Shares of individual retailers such as department store Macy's (NYSE:M), apparel maker Abercrombie & Fitch (NYSE:ANF) and online retailer Amazon.com (NASDAQ:AMZN) all raced higher.
"After an historic holiday weekend, retailers know the holiday season is far from over and will continue to look for ways to excite holiday shoppers and build on the momentum we've seen thus far," Shay said.
The NRF said spending online continues to increase, hitting an average of $150.53 – 37.8% of their total weekend spending.
Consumers also began their shopping earlier: a record 86.3 million people shopped online and at stores on Thanksgiving Day. Likewise, 24.4% of total Black Friday shoppers went to the stores by midnight on Black Friday, up from 9.5% in 2010 and 3.3% in 2009.
According to the NRF, 51.4% of all shoppers bought clothing and clothing accessories, 39.4% purchased electronic items (up from 36.7% in 2010) and 21.3% acquired home décor. The NRF also said 23.1% of shoppers bought gift cards, 21.8% picked up jewelry and 32.6% bought toys.
"Consumers are clearly demonstrating their desire to spend this holiday season, but are far from throwing caution to the wind when it comes to how much they will spend on gifts," said Phil Rist, executive vice president of BIGresearch, which conducted the NRF report. "Retailers will have to stick to an aggressive holiday promotion schedule to keep consumers interested."
Almost 26% of Americans that own a tablet device said they did or plan to make purchases with their devices, while 37.4% said they researched or plan to research items on their devices.