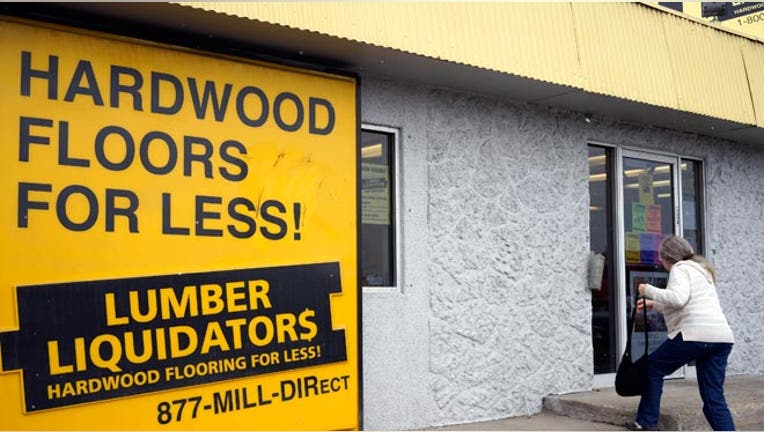 Hardwood retailer Lumber Liquidators Holdings Inc said it would suspend sales of all laminate flooring sourced from China, following allegations that the products contained excessive levels of cancer-causing formaldehyde.
The company is facing U.S. government investigations after CBS's "60 Minutes" show made the allegations in March.
Lumber Liquidators' shares rose as much as 7.2 percent in early trading on Thursday. The stock has nearly halved since CBS aired its show on March 1.
"Despite the initial positive air quality testing results we have received, we believe it is the right decision to suspend the sale of these products," Lumber Liquidators Chief Executive Robert Lynch said.
The company sources about half its laminates from China but analysts downplayed the impact from the suspension on its balance sheet.
At the end of March, the company had $22.7 million of Chinese laminate inventory on its balance sheet.
Janney Capital Markets analyst David Strasser estimated that inventories dropped by about $2.5 million in April, implying that if the company were to write down its current China inventories the number would be below $20 million.
"The balance sheet can withstand these liabilities," he said, adding that the impact on margins from the suspension was likely to be within expectations.
The suspension follows the company's decision in April to stop adding additional laminate flooring from China to its inventory.
CNBC first reported the suspension of sales of Chinese flooring on Thursday. (http://cnb.cx/1GQCI1K)
The company said on Thursday it had reviewed air quality in about 2,600 households with flooring sourced from China as of May 1 and found that formaldehyde levels in over 97 percent of those households were compliant with World Health Organization's guidelines.
The company said it was using WHO's guidelines as there was no national standard for recommended indoor home air concentrations in the United States.
Lumber Liquidators also said in April the U.S. Department of Justice was seeking criminal charges against the company under the Lacey Act related to some imported flooring products.
The company's shares were trading at $29.10 on Thursday morning. (Additional reporting by Avik Das and Nayan Das; Editing by Gopakumar Warrier and Saumyadeb Chakrabarty)