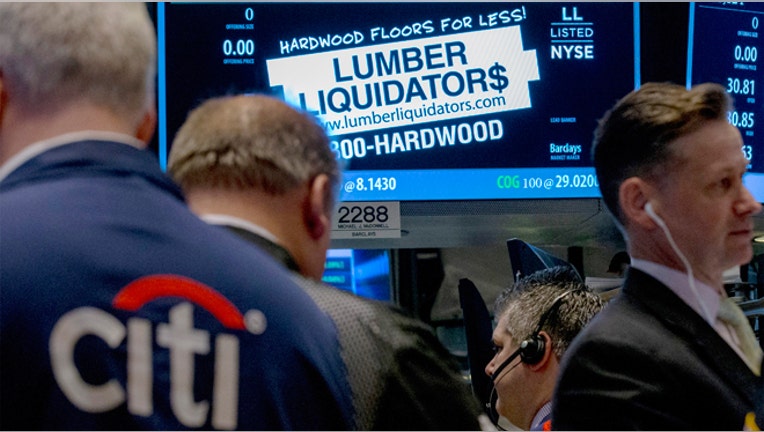 Hardwood flooring retailer Lumber Liquidators Holdings Inc reported a 2 percent fall in net sales so far in April and said its chief financial officer would leave the company in June.
Shares of the company, which also said it could not provide full-year forecast at this time, fell 15.5 percent to $28.25 in premarket trading on Wednesday.
The U.S. government is conducting investigations after CBS's "60 Minutes" show in March alleged that laminates sourced by the company from China had excessive levels of cancer-causing formaldehyde.
Lumber Liquidators said it was aware of 103 pending class action cases against it since March 3 through April 27 related to its laminate flooring manufactured in China.
The company said Daniel Tarrell, CFO since October 2006, will step down in June and will be replaced by Ernst & Young LLP executive Gregory Whirley on an interim basis.
Whirley, who was also named as Lumber Liquidators's senior vice president, finance, most recently served as senior manager - national professional practice at EY, where he was responsible for the firm's relationship with the Public Company Accounting Oversight Board among other things.
Lumber Liquidators said orders dropped 8.2 percent to $52.6 million between April 1 and April 27, compared with the same period last year.
The company increased marketing spending to bring back customers lost after the CBS report, a move that hurt gross margins in April.
Lumber Liquidators, which gets about 52 percent of its laminates from China, said it expects April gross margin of 31-32 percent, down from 38.7 percent in the same period in 2014.
Lumber Liquidators reported a loss of $7.8 million, or 29 cents per share, in the first quarter ended March 31, from an income of $13.7 million, or 49 cents per share, a year earlier.
The company's shares closed at $33.42 on the New York Stock Exchange on Tuesday. (Reporting By Yashaswini Swamynathan; Editing by Saumyadeb Chakrabarty)