Lumber Liquidators Hammers '60 Minutes' for Critical Report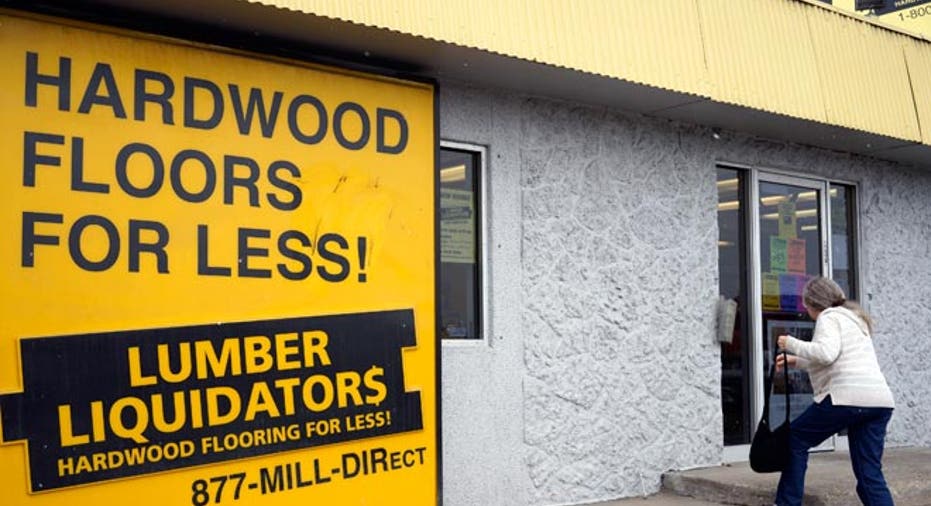 Lumber Liquidators (NYSE:LL) saw its shares tumble Monday following a critical "60 Minutes" report on formaldehyde levels found in the retailer's laminate flooring.
According to the Sunday report, the Chinese-made laminate flooring exceeds formaldehyde standards in California, even though Lumber Liquidators labels the product as CARB Phase 2 Compliant. Those emissions regulations were approved by Congress in 2010 and will be implemented nationwide this year.
Formaldehyde, a chemical linked to cancer, is found in the glue that manufacturers use to produce composite wood products like fiberboard, which forms the base of laminate flooring.
The retailer's shares dropped 23% to $39.73 in recent trading. The stock was halted for nearly two hours after the opening bell.
The company also took a hit on Wall Street after posting fourth-quarter earnings last week. Lumber Liquidators missed forecasts and offered a cautious earnings outlook for fiscal 2015.
Lumber Liquidators issued a strong rebuttal to the "60 Minutes" report as the stock resumed trading. It accused the program of using an "improper test method" that isn't included in California's regulations.
The Toano, Va.-based retail chain provided the show with test results, and its chairman and founder, Tom Sullivan, explained the differences between those tests and the ones performed by "60 Minutes." However, those comments weren't included in the report, Lumber Liquidators said.
The company added that it has documentation to support each step of its production process.
"We stand by every single plank of wood and laminate we sell all around the country and will continue to deliver the best product at the best price to our growing base of valued customers," Lumber Liquidators said in a statement.
Sullivan also refuted the claims directly on "60 Minutes," telling the program that it will never sell unsafe products. He added that Lumber Liquidators aims to offer low prices through high volume and by limiting overhead costs, not by "skimping on anything."
Sullivan promised to investigate the report's findings immediately.
The company had issued a warning last week about a critical report coming from the CBS (NYSE:CBS) news program. During an earnings conference call, Chief Executive Robert Lynch told analysts that "60 Minutes" was prepared to "feature our company in an unfavorable light with regard to our sourcing and product quality, specifically related to laminates."
Lumber Liquidators is facing lawsuits in California from environmental groups backed by Wall Street short sellers, or investors who bet on a stock's decline.
"As 60 Minutes noted, these attacks are driven by a small group of short-selling investors who are working together for the purpose of making money by lowering our stock price," Lumber Liquidators said. "Their motives and methods are wrong and we will fight these false attacks on all fronts."
According to a July 2014 lawsuit, plaintiffs found that flooring made in China contained far higher levels of formaldehyde than similar products from North America and Europe. Also last year, the Hardwood Plywood and Veneer Association said it tested Chinese-made flooring sold in North America, and formaldehyde levels were too high in six out of eight samples.
"60 Minutes" sent reporters to Lumber Liquidators' suppliers in China. The team posed as potential buyers, and employees admitted that the mills used core boards with higher levels of formaldehyde.
Lumber Liquidators said its suppliers couldn't verify the identity of the individuals who appeared in the report, and one supplier questioned whether the product shown on camera was actually from its factory.
The suppliers confirmed to Lumber Liquidators that all of their products provided to the retailer comply with emissions rules.
On its website, Lumber Liquidators says it complies with California's CARB regulations, noting that its suppliers' production methods were certified by a third party approved by the state. Lumber Liquidators includes a chart showing fiberboard testing results from the last three years. Based on the chart, formaldehyde levels in the retailer's fiberboard cores meet California standards.
Lumber Liquidators said Monday it randomly tests the company's six laminate suppliers in China using unannounced audits. The tests have determined that all products are "compliant and safe."
The company also noted that it adheres to California rules everywhere it does business.