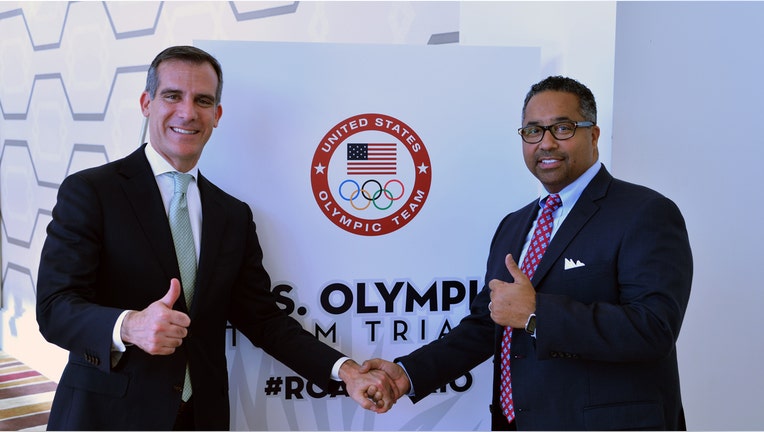 Los Angeles' 2024 Olympic bid committee revealed the official logo and slogan late Tuesday for its effort to bring the Summer Games to California for the first time since 1984. City officials remain optimistic that they can deliver a strong Olympic experience that remains under budget, even after other prospective host cities drop their bids due to concerns about the financial burden on local residents.
The logo, unveiled at a ceremony attended by more than 100 Olympians and Paralympians in downtown Los Angeles, features the silhouette of an angelic figure lit up by the sun, alongside the trademark Olympic rings. The L.A. 2024 Olympic committee's official slogan is "Follow The Sun." Los Angeles previously hosted the Olympic Games in 1984 and 1932.
Los Angeles replaced the city of Boston, Massachusetts as the United States' contender for 2024 host rights. Boston officials withdrew their bid in July 2015 after local residents balked at a $5 billion budget that would have left taxpayers on the hook for any budget overruns – a routine pitfall of hosting the games. Hamburg, Germany also pulled back its bid after residents voted down the initiative in a citywide referendum.
"We all know that Los Angeles is a city that breathes Olympism. It's in our DNA," Los Angeles Mayor Eric Garcetti, a major advocate for bringing the Olympics back to the city, said in a press release. "But this logo is about more than Angelenos' love for the Games. This logo captures the essence of L.A. - a soaring belief that through hard work, creativity and ingenuity, we can follow the sun and reach the highest levels of success. It is with that commitment, that we are excited to continue following our dream of bringing the Games back to a city that loves them."
Los Angeles is competing against Paris, Rome and Budapest for the right to host the 2024 Olympics. The International Olympic Committee is expected to select a bid by late 2017.
The cost of the Olympics has ballooned in recent years as host cities struggle to plan extravagant ceremonies and brand-new facilities under tight deadlines. The 2014 Winter Olympics in Sochi, Russia cost an estimated $50 billion. The IOC sought to address bidders' concerns by passing "Olympic Agenda 2020," which reduced baseline expectations for host city venues and established new guidelines to prevent human rights violations.
Los Angeles officials are adamant their city can host the 2024 Games while remaining under budget. Existing stadiums, such as the Staples Center and the L.A. Coliseum, are to be repurposed for the event. Garcetti said 97% of the necessary infrastructure is already in place, the Associated Press reported.
Polling shows 81% of Los Angeles residents are in favor of hosting the Olympics, L.A. 2024 spokesman Jeff Millman told FOXBusiness.com in December.