Loews Profit Falls on Lower Income from Subsidiaries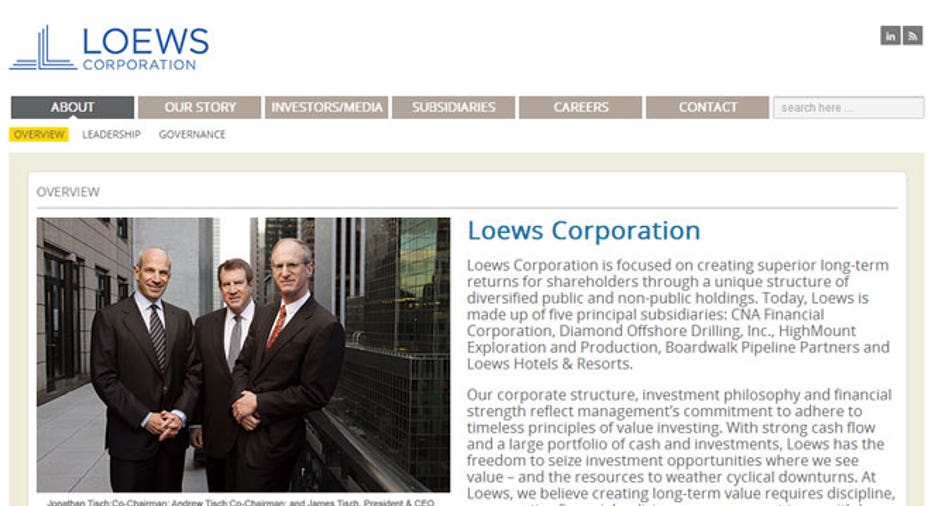 Hotel, energy and financial services conglomerate Loews Corp reported a 26 percent drop in quarterly profit due to lower investment income and weaker earnings from its oil rig and insurance subsidiaries.
Net income attributable to Loews fell to $208 million, or 55 cents per share, in the third quarter ended Sept. 30, from $282 million, or 73 cents per share, a year earlier.
Loews, controlled by New York's wealthy Tisch family, said total revenue fell about 2 percent to $3.52 billion.
On an adjusted basis, earnings were 63 cents per share, below the average analyst estimate of 68 cents, according to Thomson Reuters I/B/E/S.
CNA Financial Corp, Loews's largest subsidiary, said on Monday net income fell to $213 million, or 79 cents per share, in the quarter ended Sept. 30, from $272 million, or $1.01 per share, a year earlier.
Late last month, Diamond Offshore Drilling Inc, Loews' second-biggest subsidiary and one of the world's top five offshore rig contractors, reported a non-cash impairment charge of $109 million, pushing its third-quarter net income down 44 percent to $52.6 million.
Over the years, Loews has trimmed CNA's operations by hiving off its life insurance, personal automobile insurance, health insurance, reinsurance, and annuity and pension deposit businesses.
Loews completed the sale of its natural gas subsidiary, HighMount Exploration & Production LLC, last month due to sustained low natural gas prices and grim price outlook for the fuel caused by a shale boom.
Loews's two other subsidiaries are Boardwalk Pipeline Partners LP and Loews Hotels & Resorts.
Up to Friday's close of $43.60, Loews's shares have lost about 10 percent this year.
CNA's shares have lost about 6.5 percent this year up to Friday's close of $39.08. (Reporting by Amrutha Gayathri in Bangalore; Editing by Maju Samuel)