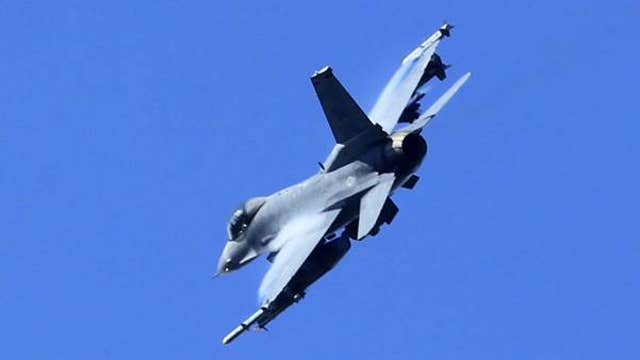 Lockheed Martin (NYSE:LMT) disclosed a 14% drop in fourth-quarter profits on Thursday as the defense contractor was hit by a number of one-time charges and shrinking revenue amid U.S. budget cutbacks.
The manufacturer of F-35 fighter jets and satellites said it earned $488 million, or $1.50 a share, last quarter, compared with a profit of $569 million, or $1.73 a share, a year earlier.
Last quarter's results featured a number of special charges, including a non-cash goodwill impairment charge of $195 million, pension reductions of $171 million and pension expenses of $120 million.
Analysts had called for EPS of $1.95.
Revenue fell 4.7% to $11.53 billion, topping the Street's view of $11.34 billion.
"Our employees delivered exceptional performance for our customers in 2013 resulting in record backlog, earnings, and profit margin as well as strong cash generation," Lockheed Martin CEO Marillyn Hewson said in a statement.
Lockheed, the No. 1 Pentagon contractor, said it recorded $15.4 billion of orders during the fourth quarter, ending the year with a backlog of $82.6 billion.
Aeronautics sales dipped 6% to $3.9 billion last quarter, while information systems and global solutions sales fell 4.5% to $2.1 billion. Missiles and fire control suffered a 9% drop in revenue to $1.73 billion and mission systems and training was mostly flat at $1.86 billion.
Looking ahead, Lockheed sees full-year EPS of $10.25 to $10.55, compared with consensus calls from analysts for $10.31. Revenue is expected to range between $44 billion and $45.5 billion, compared with the Street's view of $44.26 billion.
"We will continue our focus on improving operational efficiency, reducing our cost structure, investing in innovations to address our customers' future challenges and returning value to our shareholders," Hewson said.
Shares of Bethesda, Md.-based Lockheed fell 0.72% to $155.52 in choppy trading Thursday morning. The minor drop leaves the defense contractor up about 62% over the past 12 months.