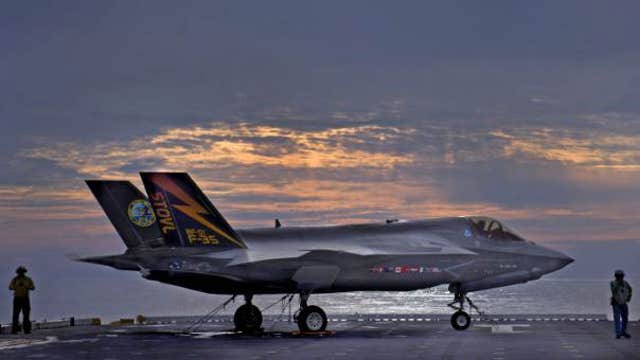 Lockheed Martin's (NYSE:LMT) third-quarter profit soared 20.1% in spite of weaker sales and Pentagon budget cuts, spurring the world's largest defense contractor to boost its earnings outlook for the year.
While the company warned that revenue will likely tick lower in 2014 amid U.S budget cuts, Chief Financial Officer Bruce Tanner said on a conference call Tuesday the impact of March's automatic sequestration cuts hasn't been as bad as expected.
Lockheed Martin raised its earnings guidance to a profit of $9.40 to $9.70 a share, up from $9.20 to $9.50 a share. Its sales view for 2013 was trimmed slightly to $45 billion, compared to the $47.2 billion in total revenue last year.
In the latest period, the Bethesda, Md., company reported a profit of $873 million versus $727 million in the year-ago quarter. Per-share earnings rose to $2.66 from $2.21. The third quarter included a $23 million charge related to job cuts.
Earnings from continuing operations checked in at $2.57 a share, up from $2.21 a share and beating Wall Street estimates of $2.26.
Sales were down 4% at $11.35 billion, topping calls for $11.15.
Lockheed Martin saw weaker results in three of its smaller units, offset by 19% profit growth in its missiles business. The company's aerospace unit logged roughly flat earnings.
Shares rallied 2.6% to $128.58 in early morning trading, adding to the stock's 35.7% gain this year as of Monday's close.