Lindsey Graham Zingers Color Undercard GOP Debate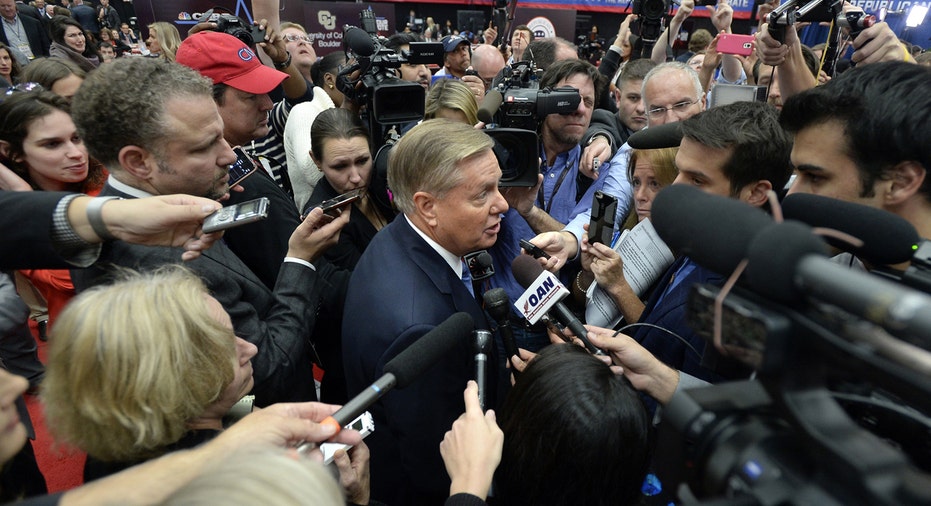 Prior to Wednesday's main Republican presidential primary debate, four second-tier candidates took the stage at the Coors Events Center at the University of Colorado Boulder. The televised "undercard" debate on CNBC covered a range of economic issues, and while most of the candidates' responses lacked impact, Sen. Lindsay Graham arguably came out on top. The South Carolina senator delivered memorable, animated responses that drew both applause and laughter from the audience. Not only that, analysts and politicians alike praised Graham's performance. Former Massachusetts Governor and Republican presidential nominee Mitt Romney tweeted that Graham deserves to be debating with the top-tier candidates.
Early on in the debate, Graham took a swipe at President Obama in relation to U.S. national security. "Barack Obama is an incompetent Commander-in-Chief. There are more terrorist organizations with safe havens to attack the American homeland than any time since 9/11… I intend to be a Commander-in-Chief that can win a war we cannot afford to lose." Graham again threw a punch at the president when asked about cyber security threats. "We're being walked all over because our Commander-in-Chief is weak in the eyes of our enemies…Make me Commander-in-Chief and this crap stops." Graham was asked by one of the moderators about his positions on climate change, tax increases and immigration, which are more moderate than many of his rivals. "At the end of the day, folks, I am trying to solve a problem and win an election," he said after expanding a bit on his stance. "I am tired of losing." Graham drew uproarious laughter from the crowd after criticizing Democratic presidential candidates Hillary Clinton and Bernie Sanders. "Good God, look who we're running against. The number one candidate on the other side thought she was flat broke after her and her husband were in the White House for eight years. The number two guy went to the Soviet Union on his honeymoon and I don't think he ever came back." Overall, Graham advocated for growing the economy in order to help the middle class, reflecting on how he grew up as the son of a bartender with limited means. He also vowed to honor and protect those who have defended the United States. "I will be a Commander-in-Chief worthy of the sacrifice of those brave Americans who have been defending our nation. They have had our back. God knows, they have had our back…And I intend to have their back as Commander-in-Chief."
Graham shared the stage with Louisiana Gov. Bobby Jindal, former Pennsylvania Sen. Rick Santorum, and former New York Gov. George Pataki.