Lifted by LeBron's Move, NBA Scores Record Ratings, Web Traffic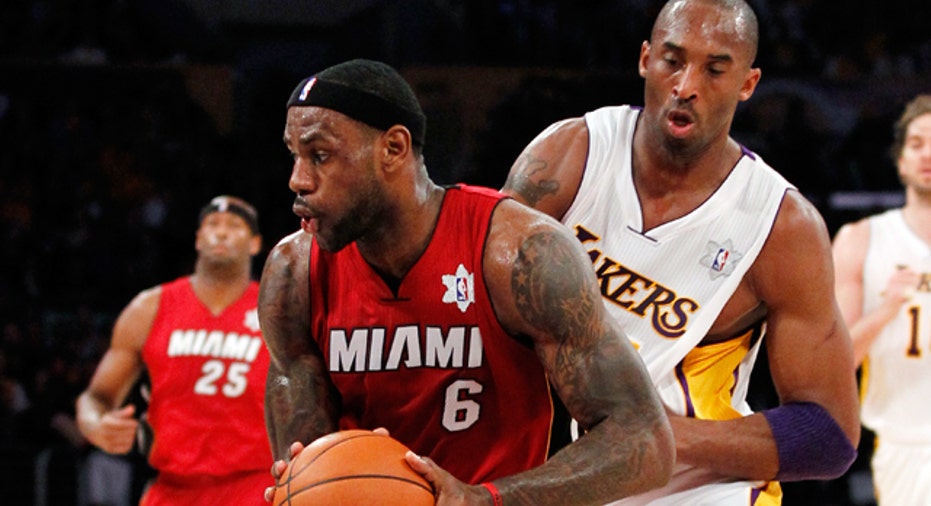 As it gears up for the kickoff to the postseason, the National Basketball Association said Friday it posted record-breaking television viewership and Web traffic this season.
Boosted by a surge in attention from key stars like LeBron James and Carmelo Anthony playing in big markets, the NBA said its viewership jumped 13% in the 2010-2011 season to 103 million.
All three networks carrying NBA games enjoyed double-digit viewership increases, led by a 42% leap from Time Warner's (NYSE:TWX) TNT. Walt Disney's (NYSE:DIS) ABC grew its viewers for NBA games by 38%, while ESPN, which is also owned by Disney, posted a 28% increase.
The NBA said its cable arm, NBA TV, was viewed by more than 8.6 million viewers this season.
Not surprisingly, the NBA said it set all-time records online with 1.94 billion videos viewed, a 140% surge from the year before. Likewise, its page views rose 35% to 5.9 billion this season.
Like many entities, the NBA increased its social media presence as its league, team and player pages accumulated more than 100 million fans and followers on Twitter and Facebook, up from 63 million at the start of the season.
Merchandise sales received a 20% bump globally, thanks in part to James vaulting to the top of its list of most popular jerseys. Sales at NBAStore.com jumped 60% this season.
Growth at the gate trailed these other metrics as the NBA said average attendance inched up just 1% to 17,306. Still, the league said that was good for its fifth-highest season ever. Arena capacity, a closely followed gauge, came in at 90.3%, staying at the 90% or higher mark for the seventh year in a row.
The NBA kicks off its race to the NBA Finals this weekend, with James's Miami Heat playing Saturday afternoon against the Philadelphia 76ers on ABC, followed by a matchup between Anthony's New York Knicks and the Boston Celtics Sunday evening on TNT.