Life Coaching Lindsay Lohan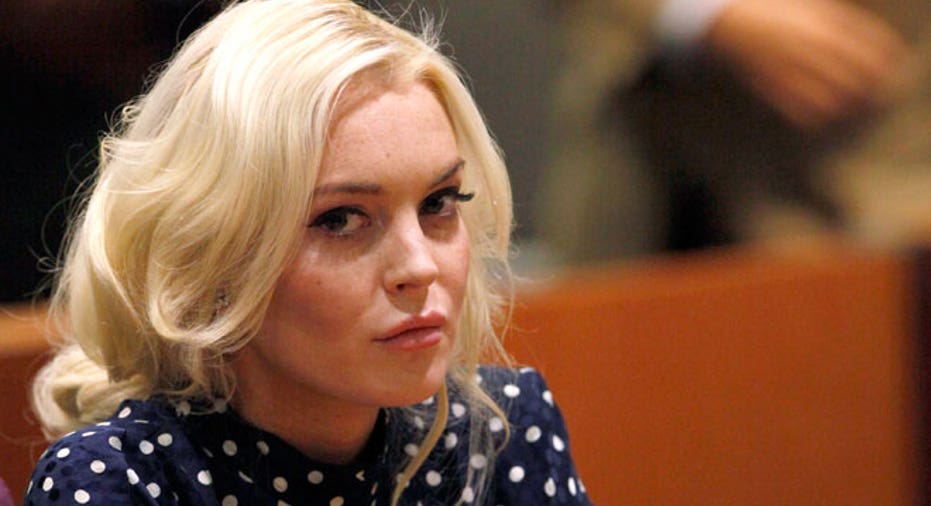 Dear Lindsay –
Let's start with this. As of this writing, 84 people of 309 have you on their "dead pool" roster for 2012. That's just one website. I'm thinking right off the bat we can come up with a few loftier goals for you than just staying alive in the New Year.
Here's one: create a new narrative.
Here's another: shed the dead weight from the old, tedious narrative.
And another: appreciate and maximize your gifts.
You know, so many people think you're hopeless. But I don't believe in hopeless, so let's go. We're on. Glass half-full approach. You have an advantage over a lot of people who try to make changes in their lives. You get to skip the part of feeling terrified that people might find out what skeletons you have in your closet. Yours aren't just out of the closet, they're sitting on the front porch waving to or flipping off everyone who goes by.
More glass half-full. Unlike so many of the young women in the spotlight these days (you know, reality "stars"), you actually have talent. I just saw a preview for a new show about mothers of quads, triplets and twins and they're hating on each other – the new normal? Really?
You, on the other hand, could funnel the very real dysfunction you've experienced into your art instead of continually self-destructing. Think Pink or Christina Aguilera, whose pain and release is part of what defines them as artists. It's like I told a client of mine recently when she admitted that her penchant for speaking her mind gets her into trouble – let's use it to your advantage. That big mouth can come in handy if you're an activist.
You're featured in the January 2012 issue of Playboy and the buzz and subsequent leaks forced the mighty Hugh Hefner's hand to the point where he released the edition early. The pics are, of course, artfully done, but I was more interested in what you had to say.
"Looking back, I probably would have listened to and taken more advice from the people whom I admire and would have followed through with it more," you say in Playboy. "My stubbornness at 18 and 19 years old got in the way. During the past five years, I've learned that time flies faster than you think, and because you only live once you have to learn from your mistakes, live your dreams and be accountable."
OK, this is promising. What are your dreams at this point? I'm going to guess they don't involve rehab or jail. Seriously, what are they? How do you feel at this point?
"Knowing yourself and your body is so important because it gives you confidence, and in life, women need confidence," you told Playboy. "Everyone is entitled to their own opinion, but this is mine."
You made the decision to pose for Playboy. Now what? Because if, for example, you want to use this bare-all moment as a springboard to something in this arena, call Jenna Jameson and ask her how it's done. I'm not kidding. Do it full out. If this is your power grab, then take charge. If it's about money or control or whatever, use this attention to climb back.
You're aware that the person who self-destructs but finds a way back is a narrative that gets people's attention in a good way, right? It's real. Isn't that a win-win? If you're going to consistently blow off commitments, here's a thought – don't make any until you feel strong and secure. Rebuild. Get humble.
When Angelina Jolie was strung out and wearing a vial of blood around her neck and known as quirky, even freaky, who took her seriously? Well, people are paying attention now. She's a humanitarian, almost regal in stance, acting, now directing.
I know I'm talking to someone who is resistant to advice. I know you reportedly tried the life coach thing, but not really. The first one wasn't actually a coach but a bonafide professional in the area of addiction recovery, a sober-companion, and the second, rumored to be Courtney Love, was really just the media mocking the life coaching profession by calling her one; plus, you denied that anyway.
In your case, a life coach can only be effective if she is complementing any counseling or addiction recovery you have in place. We're trained to move you forward in a more action-oriented way. Those goals I listed above, they need to be worked on. Set out some actions each week that will bring you closer to them, to your new narrative.
I'm not here to lecture you on lifestyle, drugs or past patterns. I'm here to urge you to choose a new path. I don't care if you dig men or women, fast cars, high heels. I just care that you don't squander your talent. I'm all about that. I say it as an objective outsider who has no stake in you or how much cash you bring in. I'm just one of those persistent-bordering-on-annoying people who thinks we were given gifts for a reason and it ticks me off when people take those things for granted.
If you don't know how talented you are, if you have no appreciation of self, that is where you need to begin. Own who you are. Get to know it. Like it. Learn to love it. Declaring by your actions that you're above community service, while not at all admirable, is at least honest. No fake happy pub for you. OK, then.
There are so many people in the world who screw up and then eventually get it right. Many, many of them. You could join them. You could.
My vision for you – peel away whatever allows you to get to Lindsay. She's in there and she's got a lot of living to do. Otherwise she will continue to be a recurring figure in death pools.
I am pulling for her, for you. And I think I may be the only one left.
Sincerely,
Nancy Colasurdo
Nancy Colasurdo is a practicing life coach and freelance writer. Her Web site is www.nancola.com and you can follow her on Twitter @nancola. Please direct all questions/comments to FOXGamePlan@gmail.com.