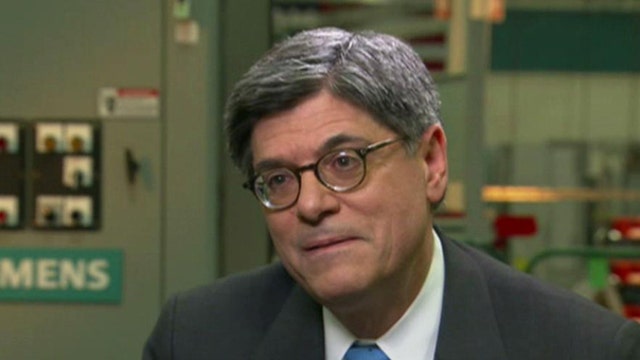 Treasury Secretary Jack Lew said in an interview with FOX Business that current efforts to reach an agreement to balance the U.S. budget and trim the massive deficit may not provide a definitive solution.
Lew, who has participated in federal budget negotiations for three decades, said past negotiations usually reached their final goals in stages.
"It took a lot of bites at the apple to get the job done" during budget negotiations in the 1980s and 1990s, he said.
Lew replaced former Treasury Secretary Timothy Geithner at the beginning of President Obama's second term.
Lew, who rose to Treasury Secretary after serving as Obama's chief of staff, said he believes most of the players involved in the current negotiations agree that a balanced budget will require a mix of spending cuts and tax increases. The problem is agreeing on the precise mix.
"Everyone knows where a balanced, fair deal is, they just don't know how to get there," he said."If this was easy we'd have gotten it done in 2011. You don't stop just because it's hard."
Lew said the president is willing to "do tough things" to reach an agreement with Congressional Republicans, referring to entitlement spending cuts. He declined to be more specific as to where the president might be willing to compromise.
"We have to do some tough things on the entitlement side and Republicans have to do tough things on the revenue side," he said. "There's no mystery about what we need to do. The problem is how we get there."
Lew said current economic data, which has been mostly positive in recent weeks, doesn't reflect the sequester, the $43 billion in fiscal 2013 budget cuts that began to take effect on March 1. Sequester, he said, "isn't an on-off switch."