Lenovo Reveals 'Legion' Gaming PCs, X1 Refresh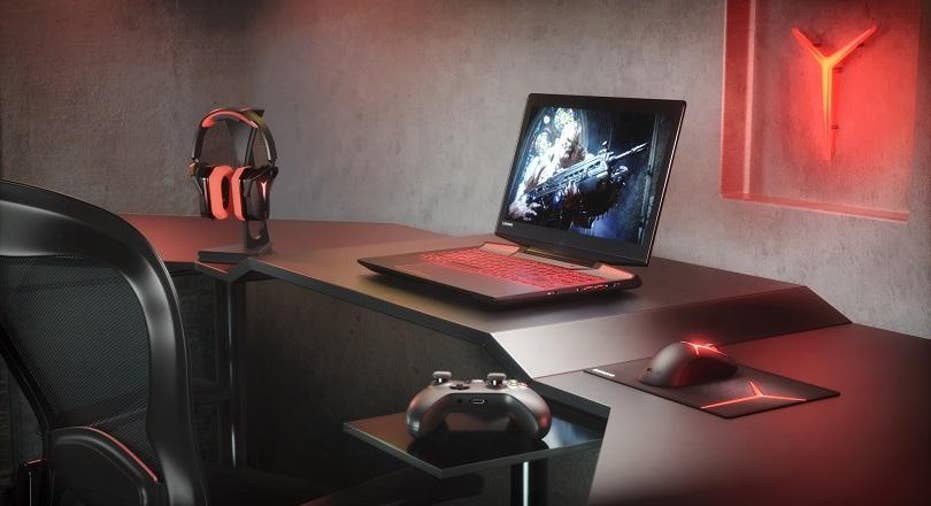 LAS VEGAS—Lenovo is going big at CES, with new gaming laptops, updates to its business-focused ThinkPad X1 lineup, and a foray into smart home devices.
The company's gaming division is also getting a new name for 2017—Legion—and the first two models will be the Legion Y720 and the Legion Y520, which offer different levels of power for mainstream and enthusiast shoppers.
The Y720 is the more powerful version, featuring an Nvidia GeForce GTX 1060 graphics card and a 4K display. There's also an Intel Core i7 processor, so the Y720 is a VR-ready laptop. It can be configured with up to 512GB solid-state storage or a larger hard drive up to 2TB, and has a built-in wireless receiver for Xbox One controllers, which normally require the purchase of a standalone adapter.
The Y520 is also equipped with a Core i7 processor, but packs a GTX 1050 instead. As such, it's not VR ready, and the display maxes out at full HD (1,920-by-1,080 resolution). It is more affordable, though, starting at $899.99 this February, while the Y720 will start at $1,399.99 when it becomes available in April.
X1 Refresh
Outside the Legion systems, the ThinkPad X1 Carbon, X1 Yoga, and X1 Tablet are all being refreshed, and a new Miix model is on the way.
The X1 Carbon, a high-performing portable laptop, is smaller and lighter than before—just under 2.5 pounds. It still fits a 14-inch IPS display into a 13-inch body, boasts a full suite of ports including Thunderbolt 3 support, and has enhanced battery life. It's now available in silver, in addition to black, and will be available in February starting at $1,349.
The 2017 X1 Tablet will be MILSPEC certified, providing greater durability. A module allows for port expansion and up to five extra hours of battery life. It will launch in March starting at $949.
The new X1 Yoga also comes in silver, and continues to offer the convertible hybrid design of other Yoga systems. It will include Intel Iris Graphics rather than HD Graphics, and a 14-inch OLED display with 100 percent Adobe RBG color coverage. It also features Lenovo's retracting keyboard, which flattens the keys out as you rotate to tablet mode. The X1 Yoga will launch in February and start at $1,499.
Separate from these systems is the Miix 720, a super slim detachable. It weighs 2.4 pounds with the keyboard attached, but has fast components like an Intel Core i7 processor to serve as a PC replacement. Its 12-inch touch screen bears a QHD+ resolution, and a Thunderbolt 3 connection can support up to two 4K displays. It comes in two colors—Champagne Gold and Iron Gray—and the keyboard is included. The Miix 720 arrives in February starting at $999.99; a Lenovo Active Pen 2 is available separately for $59.99.
Lenovo Smart Home
Lenovo is also jumping into the smart home market. Smart Assistant with Amazon Alexa is shaped like the Amazon Echo and taps into the Alexa voice service, much like Amazon's own devices. It arrives in May for $129.99 in gray, black, or orange.
Finally, the Smart Storage gadget is a network-attached storage solution with up to 6TB of capacity. It's designed for security and peer-to-peer access to media, documents, and other files. It can use facial-recognition technology to organize your photos, and includes multi-device auto-sync. It starts at $139.99 and will be available in May.
This article originally appeared on PCMag.com.