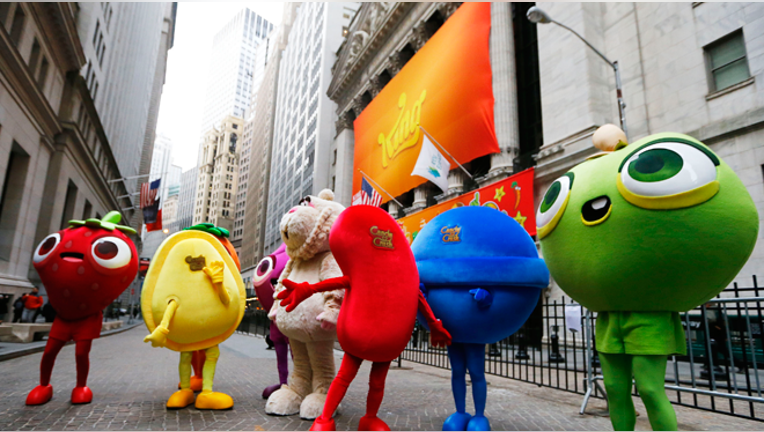 The three lead underwriters of King Digital Entertainment Plc's IPO started coverage of the stock with "buy" ratings or the equivalent, two days ahead of the release of the "Candy Crush Saga" game maker's first results as a public company.
King Digital's shares rose 1.7 percent before the bell on Monday, at the expiry of a 40-day "quiet period" for underwriters to issue recommendations after the IPO.
"Candy Crush peaked in mid-2013, but we expect it to still have a long tail of monetization driven by updated content, increased distribution, and effective marketing," analysts at J.P. Morgan Securities said in a research report.
The analysts have an "overweight" rating on the stock, with a target price of $30 compared with the IPO price of $22.50.
King Digital's stock was trading at $17.85 before the bell.
King Digital shares closed down 16 percent in their first day of trading on March 26, underscoring the concern of some investors that the company was too dependent on "Candy Crush Saga" for its revenue.
Credit Suisse and BofA Merrill Lynch, the other lead underwriters to the IPO, also highlighted King Digital's strength in mobile gaming.
"Smartphones and tablets are the dominant modality of play for King's games, and with nearly one third of the consumer's time spent on mobile on games, the company is highly levered to the proliferation of connected devices," Credit Suisse analysts wrote.
Credit Suisse has an "outperform" rating on the stock and a price target of $28.
Analysts at BofA Merrill Lynch started coverage with a "buy" on the stock and a price target of $23.
Apart from the underwriters, at least six other brokerages also began their coverage with top ratings. Cowen and Co put a price target of $31 on the shares.
King Digital shares, which have not touched the IPO price since their debut, hit a low of $15.84 on April 15.