LaVar Ball pulls suspended son LiAngelo from UCLA after China incident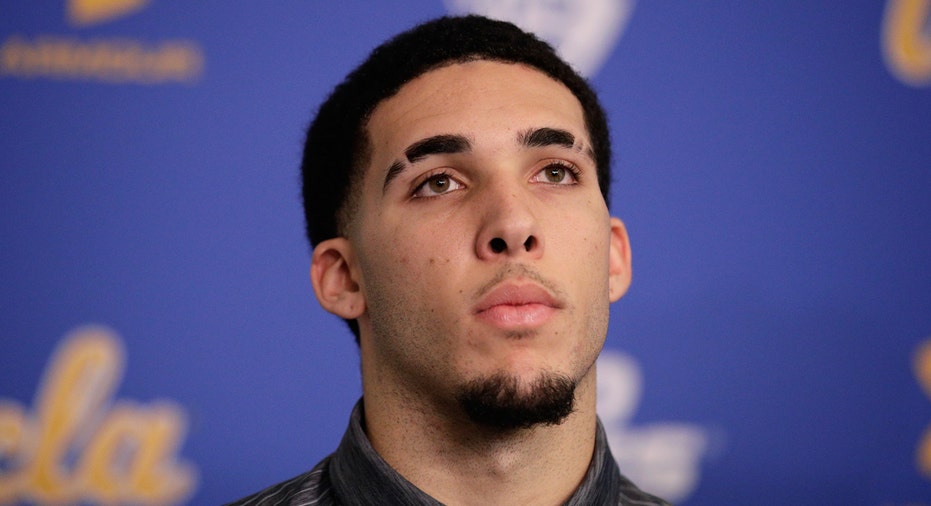 LaVar Ball, the father of UCLA basketball player LiAngelo Ball and founder of the "Big Baller Brand," says he plans to withdraw his son from the school, days after UCLA officials indefinitely suspended the freshman for shoplifting during a recent trip to China.
The younger Ball, along with freshmen Jalen Hill and Cody Riley, have been barred from all team activities as part of their suspension for shoplifting from three high-end stores last month when UCLA opened its season overseas.
LaVar Ball told the Los Angeles Times and ESPN on Monday that he's going to explore other options for LiAngelo because "I'm not going to let him sit back and not practice."
The elder Ball says he hasn't spoken to the school about withdrawing his son. "I'm taking him and I'm gone," he told the Times.
"We learned today of LiAngelo Ball's intention to withdraw from UCLA," coach Steve Alford said in a statement. "We respect the decision he and his family have made, and we wish him all the best in the future."
LiAngelo is the middle child of Ball's three sons. Oldest son Lonzo is a rookie with the Lakers after playing one successful season at UCLA.
LaVar Ball drew national attention last month after he and President Donald Trump exchanged words over LiAngelo's detention in China. Trump, who personally intervened with Chinese authorities to aid Ball's release, called on the three UCLA basketball players involved in the shoplifting incident to thank him for his help.
LaVar Ball responded by downplaying Trump's role in securing their release, which prompted Trump to say he "should have left them in jail."
The elder Ball pulled his youngest son, LaMelo, out of Chino Hills High recently in favor of home schooling him.
LiAngelo Ball never played a regular-season game for the Bruins (7-1), who fell out of the Top 25 last week.
Asked if LiAngelo agreed with the decision, the elder Ball told the Times, "My boy is loyal to me. I tried to let UCLA deal with the process and he should have been playing the next week."
Alford indicated last week that he expected the fate of the three suspended players to be resolved in the near term.
Ball, Hill and Riley publicly apologized for their transgression while reading prepared statements at a campus news conference on Nov. 15.
Alford said last week that he and his staff were communicating with the players via text messages and calls, mostly to see if they are attending classes. The players are allowed to use athletic facilities, including the weight room, but aren't working directly with the coaching staff, he said.
Video posted online recently showed Ball playing a pickup game against LaMelo. LaMelo and his father sat courtside last week to watch Lonzo play for the Lakers.
The Associated Press contributed to this report.