Las Vegas Resorts' Biggest Fear Is Finally Coming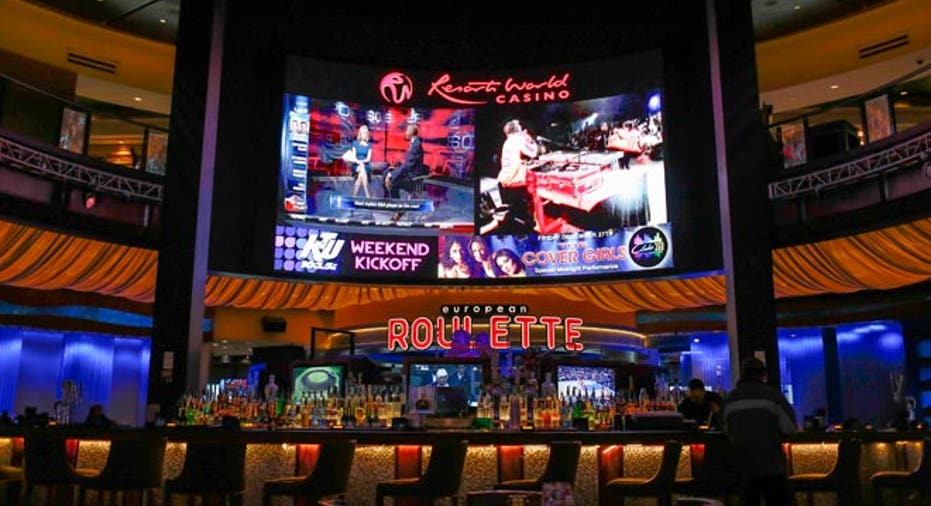 The Las Vegas strip is changing,with updated hotels, the new Linq area built by Caesars Entertainment, and the coming Las Vegas Arena being built by MGM Resorts International (NYSE:MGM). Over 41 million people visited Vegas in 2014, and increases in non-gaming revenue from operations such as hotels and convention space has been a boon for these companies. But now their worst fear is coming.
Genting operates Resorts World casinos in Malaysia, Singapore, New York, the Philippines, and soon other Asian locales including Macau, South Korea, and potentially Japan. Resorts Worlds in Malaysia and Singapore have theme parks attached. The company also has a cruise line (which includes onboard gambling), and subsidiary businesses even have a hand in science research, energy and oil products, and property development.
Genting bought a piece of land in Las Vegas in 2008, but the area has sat largely idle since. When the company announced plans to build its next major resort, Resorts World Las Vegas, observers expected construction to start in 2014 for a 2015 phase one opening.
Construction never started and many people forgot about Genting while other companies basked in the resurgence of revenue in Las Vegas. But with the recent announcement that construction of Resorts World Las Vegas would start next month, other Vegas companies should start to get nervous.
Delayed, but finally coming
After a year of delays, Genting announced in early April that construction of a massive $4 billion resort just off the Vegas Strip would begin on May 5. Genting has already made significant preparations for this project, including groundwork, relocating utility lines, and working to finalize all permits with the local government. The intent is to ensure a smooth construction process, which will be necessary to make the casino ready to open in 2017.
The mostly Asian-theme resort will include 100,000 square feet of gaming space, as well as a large theater and convention center. It will encompass 3,000 rooms in multiple hotels and 22 villas. Other amenities will include 45 different shopping and dining options, one of the highest observation decks in the city, a giant exotic aquarium, a terra-cotta warrior exhibit, a scaled-down Great Wall replica, and potentially even live pandas. There is also talk of adding a theme-park partner, as the company did with its properties in Singapore and Malaysia.
Why other resorts should be worried
Roughly 18% of Las Vegas guests are international visitors, and more than half of those come from Asia, mostly China. There has been speculation the resort will try to appeal to this large group of Vegas visitors. Will Asian guests want to visit the U.S. only to stay in an Asian-themed resort? Who knows. However, that's not what should be worrisome to other Las Vegas companies.
MGM and its peers should instead be worried by a huge influx of new hotel rooms and convention space into the city. While casinos are still a large part of the Sin City image, gaming only made up about a third of 2014 Vegas resort revenue.
Instead, MGM and others are collecting their biggest gains in areas like hotel and convention space use. MGM boasted a 6% year-over-year rise in revenue per available room at its resorts in Las Vegas in 2014, led mostly by increased room rates and higher total occupancy.
The 3,000 new rooms and new convention space coming with Resorts World Las Vegas could put downward pressure on room rates and occupancy throughout the city. For companies such as MGM and Caesars that are still struggling just to break even, this coming resort is definitely something to fear.
The article Las Vegas Resorts' Biggest Fear Is Finally Coming originally appeared on Fool.com.
Bradley Seth McNew has no position in any stocks mentioned. The Motley Fool is short Caesars Entertainment. Try any of our Foolish newsletter services free for 30 days. We Fools may not all hold the same opinions, but we all believe that considering a diverse range of insights makes us better investors. The Motley Fool has a disclosure policy.
Copyright 1995 - 2015 The Motley Fool, LLC. All rights reserved. The Motley Fool has a disclosure policy.