L.A. Boutique, Designer Slammed for 'Xanax' Jerseys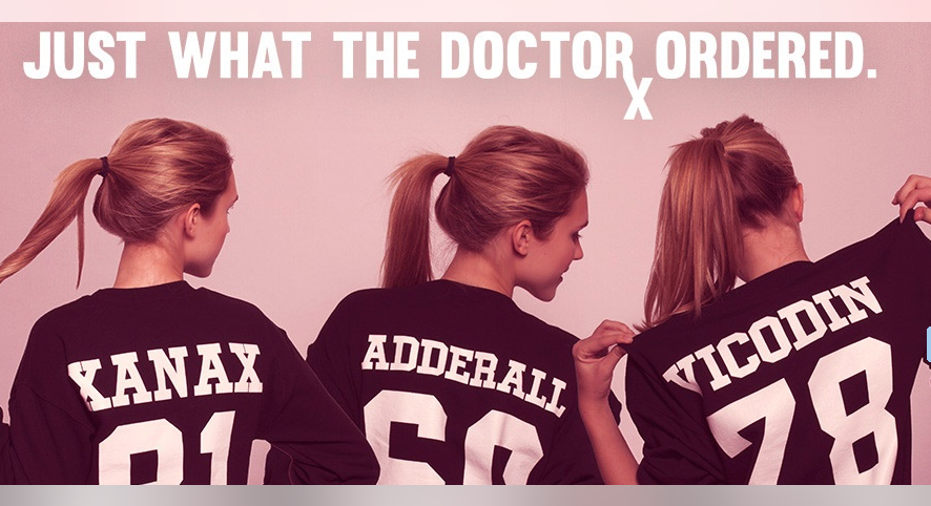 Los Angeles boutique Kitson is under social media fire for its new line of prescription-drug-name themed shirts by designer Brian Lichtenberg.
The jerseys, which prominently feature drug names like Xanax, Adderall and Vicodin, have outraged many consumers on both Facebook and Twitter, who claim that the store and designer are glorifying prescription drug abuse.
Actress Kristen Johnson, who recently wrote a memoir about her own struggles with addiction, criticized the company on Twitter, before Kitson asked her to remove the comment.
Her feelings on the matter, were seconded by others on the social media platform:
Meanwhile, Shire and Pfizer, which manufacture Adderall and Xanax, respectively, say they aren't laughing about the t-shirts.
"Pfizer has no relationship with the designer of this clothing line or the store in which this clothing is being sold and had no involvement in the development or marketing of this clothing line.  We are taking this unauthorized use of our trademark very seriously and are considering all possible courses of action," says a Pfizer spokesman.
Lichtenberg's PR says the designer has not received any official papers from the pharmaceutical companies.
In a statement, Lichtenberg addresses the drama head-on, saying, "I have created a collection of t-shirts that are a parody of pop culture. This particular collection of prescription tee's is simply a commentary on what I see happening in our society.
"Call it what you may, but art in all forms is created off of pop culture and the social situation that surround it. A large percentage of American are prescribed these drugs by doctors [for] legitimate reasons. These are not illegal substances. These tee's are not meant to encourage prescription drug use or abuse, but if they open the door to a much [needed] dialogue, as they seem to be doing, then mission accomplished."