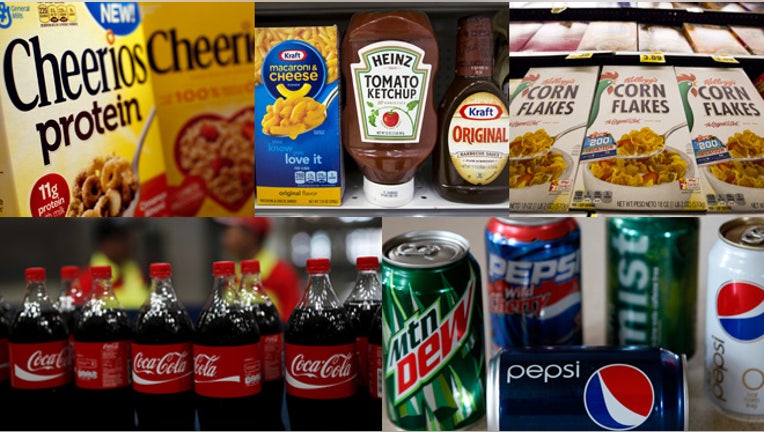 Big food companies such as Coca-Cola (NYSE:KO), PepsiCo (NYSE:PEP), Kellogg's (NYSE:K), Kraft Heinz (NASDAQ:KHC), General Mills (NYSE:GIS), and Land O'Lakes are among the biggest spenders when it comes to blocking genetically modified organisms (GMO) labeling. Combined, these corporations have spent $12.6 million so far this year to support the Deny Americans the Right to Know-or Dark Act, which was passed by the House last month, according to new analysis by The Environmental Working Group (EWG).
If passed by the Senate, the Dark Act would undo GMO labeling laws that states like Vermont, Connecticut, and Maine have already set in place.
And, now GMO labeling advocates such as EWG and Just Label It, an organization whose sole mission is to get companies to –well—just label it--are heading to Congress to stop it. And, they're bringing along celebrity powerhouses like Gwyneth Paltrow and her mother Blythe Danner with them.
"Gwyneth actually came to me through word of mouth. We actually have a big host of celebrities that are with us on this," says Gary Hirshberg, Chairman of Just Label It and StonyField Organic, an organic diairy producer. "We're going to talk to Senators. We don't want this to pass in the Senate. And companies are clearing stepping up their investment to prevent any type of labeling requirements which is working against consumer interests."
However, the Coalition for Safe Affordable Food says the "Dark Act" legislation has earned the backing of everyone from farmers to food banks.
"Out of touch Hollywood celebrities like Gwyneth Paltrow want Congress to enshrine their lifestyle choices into law while ignoring the everyday realities facing American families," said Claire Parker, spokesperson for the organization. "We are confident the Senate will stand with science and American families rather than the extreme agendas of Hollywood elites and that common sense and scientific consensus will win out over media spectacle."
EWG reports that $51.6 million have already been spent by the food industry, biotechnology companies and trade groups to block state laws prohibiting "natural claims" on GMO foods, which will make it virtually impossible for the Food and Drug Administration (FDA) to create a mandatory nationwide labeling system.
Analysis shows that Coca-Cola ($5,040,000), PepsiCo ($3,230,000), Kraft ($1,180,000), Kellogg's ($1,310,000), General Mills ($1,100,000), and Land O'Lakes ($720,000) disclosed the largest lobbying expenditures that mentioned GMO labeling. The figures cover the period from January 2015 through the end of June.
"What is obscured to me about all of this is that if you were Coke and Pepsi, you could really a get huge boost if they would just come out and support this kind of labeling," adds Hirshberg. "I am not personally opposed to GMOs, we just want to put it on their labels."
Coke and Pepsi referred FoxBusiness.com to the Grocery Manufacturers Association (GMA), a trade group that represents them and other food manufacturers. Kraft Heinz responded via email that they have "no comment" on this matter.
Meanwhile, General Mills said they have long opposed state-based labeling laws.
"We believe food labeling regulations should be set at the national level, not state-by-state—and most companies hold the same view," the company said on its website.
Currently, the FDA allows companies to voluntarily label foods containing GMOs, while "Non-GMO" labels are becoming marketing gold for companies to attract consumers.
"A lot of these companies have been fed propaganda by chemical or "biotech" companies--the ones who essentially make these seeds. They tell them their food costs will go up. It's a scare tactic," says Hirshberg, who founded StonyField in 1983.
"There is nothing new about this fight. In the long run, they are going to lose. Consumers want to know more, especially millennials. And, as a person who ran a food company for 30 years, the fastest growing sector is organic and non-GMO."
Hirshberg says he doesn't want to scare consumers about GMOs either, he just wants the two words "Genetically modified" on the ingredients panel so consumers can make the decision for themselves.