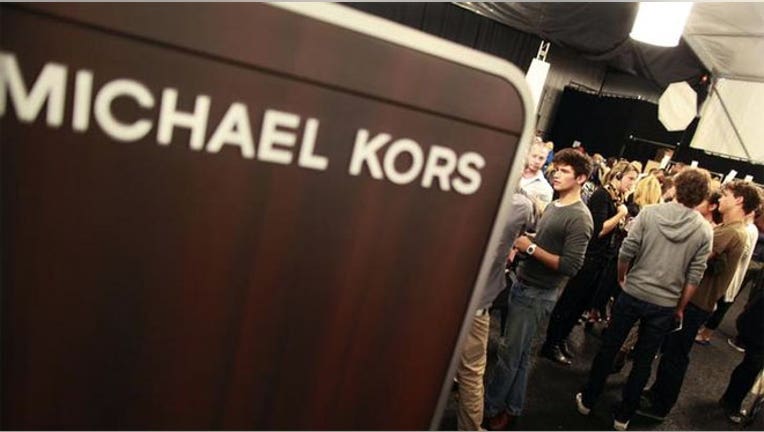 Wall Street's Michael Kors (NYSE:KORS) party was quickly quelled after a conference call Monday morning silenced cheers around a big quarterly revenue beat.
The luxury designer brand logged a fiscal first-quarter profits-per-share of 91 cents on sales of $919.15 million, topping analyst estimates for an 81-cent EPS on revenues of $851.66 million.
Despite the big beat, it's the margins that have investors concerned, and the stock, which was trading as much as 11% higher pre-market, sinking in post-call trade. For the current quarter, the company's fiscal second, Wall Street was anticipating gross profit margins of 60.7%, but during the call, the company said it's actually expecting a number closer to 60.3%.
The outlook became a point of contention between analysts and the company's chairman and CEO John Idol who attempted to assuage concerns about the brand's forward-looking guidance. For the most part, he dismissed concerns saying in previous periods, the company told investors its margins were unsustainable and the company is now seeing more normalized selling rates in some stores.
"We told everyone that the operating margins were not sustainable and we've had planned them to come down…I think the shock and the reality of seeing that has everyone a bit unfocused, in my opinion, because you're not focusing on what is the true development in this business," he said during the call.
Idol pointed investors back to the Kors's same-store-sales numbers, a key retail indicator, which increased 24.2% in the quarter, and was driven by increased traffic and conversion as well as strong performance from small leather goods and handbags. He drove focus back to the company's strong top-line results in 1Q.
Idol continued, pointing to the company's expansion efforts, which he said will help drive growth in the coming quarters through full-price products as Kors continues its efforts to say away from the discount arena.
To that point, he said the Kors brand doesn't compete with just one rival – like Coach (NYSE:COH) or Kate Spade (NASDAQ:KATE),  -- but instead, it focuses on the lot of luxury consumers in the world, competing not just in a singular category like handbags and small leather goods, which makes up about 70% of its business.
"We're trying to sell more full price products. So, we're going to push the envelope. We're going to try and get new fashion in the stores earlier, and we're going to make some mistakes at times, absolutely, that's what fashion is about," he said.
The company plans to have a new store in New York's trendy SoHo neighborhood open by October (a later timeline than originally anticipated), expansion in its men's product line, and a push into more retail stores. Kors plans to upsize 41 stores globally, ending up with 400 stores in North America within the next 24 months, and also expand the brand by adding 55 stores in Europe, 10 in Japan.  Overall, Idol says he sees capital expenditures for Kors to total about $400 million for fiscal year 2015.
"The majority of these expected expenditures related to new retail store plant openings for the year with the remainder being used for investments in connection with developing new shop-in-shops, build out of our corporate offices, and distribution centers, and enhancing our information systems infrastructure," he noted.
Adding to that, Idol said in the call the company is becoming increasingly competitive, taking market share not only from smaller regional players, but other larger luxury players.
"We sit on the best street locations next to the finest luxury companies…and we are watching the consumers go into those stores, come into our stores, shop, and leave with shopping bags from us. Of course they might be carrying those other luxury shopping bags as well," he said. "In Europe we are definitely taking market share from that category and, by the way, seeing the same thing happen in Asia as well."
He added the European business looks to hit just north of $1 billion next year, which he contends no other brand has grown to that size as quickly as Kors has.
Still, despite the chief executive's push to convince investors the margin concerns are just a small piece of the company's overall fiscal-year puzzle, Wall Street is punishing the stock, which was down more than 6% in recent trade.