Knight's Nightmare: Trading Blunder Imperils its Future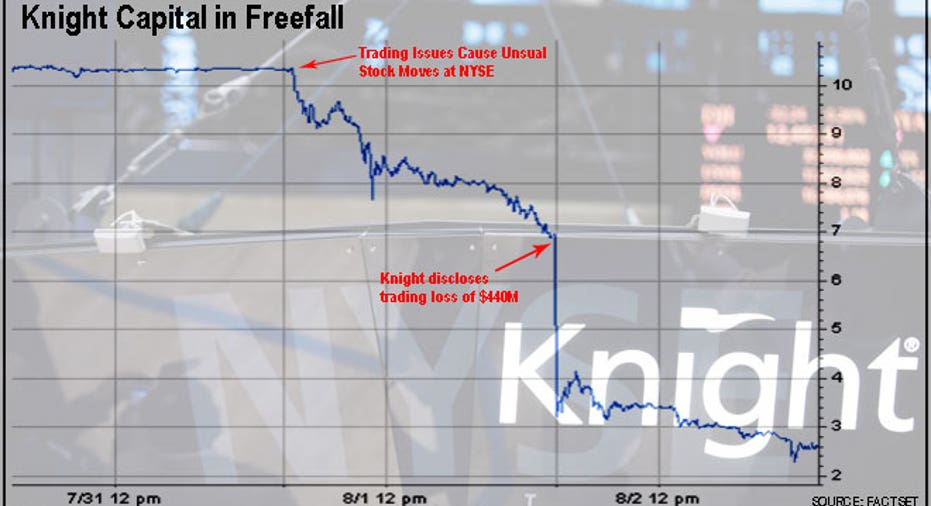 Reeling from a stunning pretax loss of $440 million tied to a trading glitch, Knight Capital Group (NYSE:KCG) scrambled to find an emergency loan or a potential suitor on Thursday as the market maker's shares crumbled north of 60% and management sought to avoid a bankruptcy filing.
The latest developments call into question Knight's ability to survive as an independent firm just a day after a massive trading blunder caused turbulence in more than 140 Big Board-listed shares.
Despite earlier reports about talks about a deal between Knight and Virtu, the New York-based electronic-trading and market-making firm is not interested right now, FOX Business's Charles Gasparino reported.
Read: Knight Capital Was Hardly the First: Timeline of Market Glitches
Instead, Knight Capital CEO Thomas Joyce is considering a bankruptcy filing that would aim to reorganize the firm through a complicated transaction known as a "363" spinoff, Gasparino reported.
Earlier in the day Knight reached out to J.P. Morgan Chase (NYSE:JPM) for emergency financing aimed at shoring up the company's shrinking capital base, which has been depleted by the $440 million trading losses.
The trading malfunction involved Knight Capital buying $5 billion of stock in a trade that was intended to take place over five weeks but was ultimately executed in just 20 minutes, a source told Gasparino.
"It's a war zone here; bullets are flying. I'm just trying to survive."
Knight is in the midst of a desperate attempt to sell itself and Chicago-based Citadel LLC, which was founded by Kenneth Griffin, has been mentioned as a potential savior. Citadel declined to comment on the speculation.
Traders at Knight Capital are already making calls for jobs elsewhere as the stock hits multi-decade lows, Gasparino reported. Knight employed a 1,418 people as of the end of the second quarter.
"It's a war zone here; bullets are flying. I'm just trying to survive," a senior Knight executive told FOX Business.
In a statement on Thursday, Jersey City, N.J.-based Knight Capital warned the erroneous trading positions caused by the technology malfunction have "severely impacted" its capital base, though the company's broker/dealer subsidiaries are in "full compliance" with their net capital mandates.
"It's going to be hard for Knight because this is their distinctive competence. This is what they do," Robert Steven Kaplan, a Harvard professor and former vice chairman at Goldman Sachs (NYSE:GS), told FOX Business. "If they make a mistake like this that costs this much money, it casts out on their entire franchise and capability."
While Knight Capital said it will continue its trading and market-making activities on Thursday, it acknowledged it is "actively pursuing strategic and financing alternatives to strengthen its capital base."
That means another Wall Street player could potentially swoop in and take over Knight Capital at a steep discount: its shares have plummeted north of 70% since closing at $10.33 on Tuesday.
Knight's shares plummeted 63% to close at $2.58 -- their lowest split-adjusted price since at least October 1998, Dow Jones Newswires reported.
While larger companies might be able to absorb a pretax hit of $440 million, the trading losses are sure to significantly eat into Knight Capital's capital base. To put the loss into perspective, Knight Capital's market capitalization stood at just $319.2 million on Thursday.
Adding to the uncertainty surrounding the firm, at least 10 counterparties won't deal with Knight, at least for now, Gasparino reported.
TD Ameritrade (NYSE:AMTD) and Fidelity Investments are not not currently routing trades through Knight Capital, Reuters reported. Fidelity is not having trouble routing orders to other market makers, while Ameritrade said it would resume sending orders through Knight if the firm remains in good standing with U.S. exchanges, the wire service reported.
Software glitches at Thursday's opening caused a spike in volume and created volatility in about 140 stocks on Wednesday, prompting the New York Stock Exchange to review trading in dozens of stocks, including Anheuser-Busch InBev (NYSE:BUD), Caterpillar (NYSE:CAT), Bank of America (NYSE:BAC) and General Electric (NYSE:GE).
Ultimately NYSE Euronext's (NYSE:NYX) Big Board only canceled trades in six smaller shares, including Wizzard Software (NYSE:WZE), E House (NYSE:EJ) and American Reprographics (NYSE:ARC).
Knight described the problem as a "technology issue," tied to the installation of trading software that resulted in "numerous erroneous orders" in NYSE-listed shares. The company said it has removed the software from the company's systems.
Ironically, Knight's Joyce was highly critical of Nasdaq OMX Group (NASDAQ:NDAQ) after a trading glitch at that exchange marred the high-profile initial public offering of Facebook (NASDAQ:FB).
Last month Knight Capital disclosed a loss of $35.4 million in the second quarter tied to the Facebook fiasco and the company had indicated it was mulling legal action.
While it's not as well known as the Big Board and other financial institutions, Knight Capital is an important cog in the capital-market system.
As a market maker, Knight Capital is the largest handler of stock orders for U.S. retail brokerages, trading an estimated 725 million shares a day.
Last year Knight Capital's average daily volume of U.S. equities totaled $29.3 billion, 4.2 million trades and 4.5 billion shares traded. As of the second quarter, the company's U.S. equity market making traded an average of 3.4 billion shares each day, 519 million shares an hour and 8.7 million shares each minute.
Knight Capital was founded in 1995 and also provides liquidity for exchange-traded funds (ETFs) and over-the-counter securities.