Knight CEO: Regulatory Changes Likely Following Trading Glitch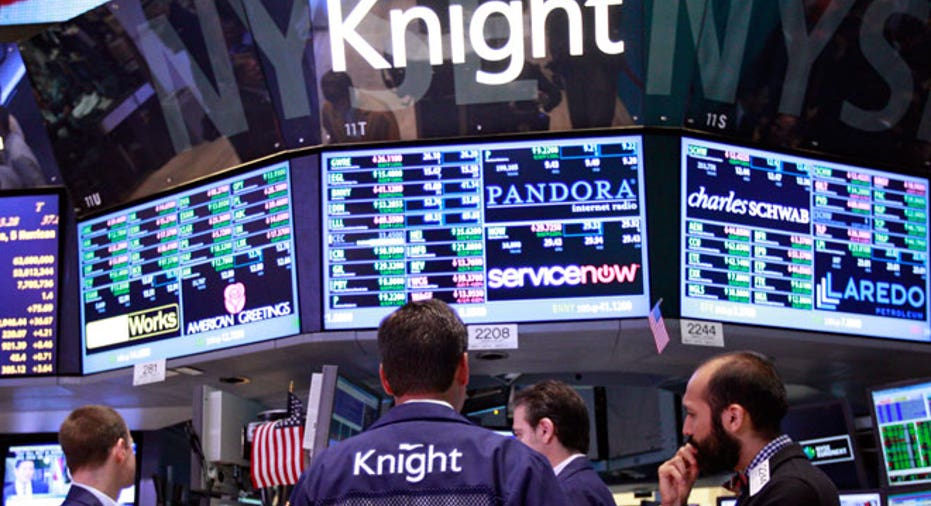 he August 1 trading glitch that punched a $440 million hole in Knight Capital Group Inc's (NYSE:KCG) balance sheet and nearly sank the firm will likely prompt a review of the rules that govern electronic trading, Knight's chief executive said on Tuesday.
The U.S. Securities and Exchange Commission will likely reexamine rules on how errors are dealt with by trading firms and exchanges, as well as the circuit breakers that are tripped by unusual volume and so-called "kill switches," which could shut down order flow, Knight CEO Thomas Joyce said.
Two days after Knight's near fatal trading glitch, the SEC said it would host a discussion with industry players and experts on October 2 that would look at how to prevent and handle technical glitches.
"The silver lining is that, at the end of the day, I believe some regulatory changes will be made and there are probably only two or three of them that need to be considered, but it will make the system stronger," Joyce said at the Barclays Global Financial Services Conference in New York.
On August 1, Knight, one of the two biggest executors of stock trades in the United States, went live with new software that had been improperly installed and conflicted with old code that was supposed to have been deleted, unleashing a flood of orders to the New York Stock Exchange, unrestricted by volume caps.
"In effect, we kicked the beehive," Joyce said.
As orders accumulated, exchange operator NYSE Euronext <NYX.N> was "hamstrung" by SEC rules that prevented it from breaking trades that did not fall under specific circumstances, Joyce said.
"There is no reason to put a firm at risk because some knucklehead, or a series of knuckleheads at the firm, made a big mistake. If it's an error, you should be able to fix an error," he said.
THIRD-PARTY REVIEW
The SEC has been grappling with a number of technology mishaps recently.
Nasdaq OMX Group <NDAQ.O> is under investigation by the agency for its botched handling of Facebook Inc's <FB.O> May 18 initial public offering. Also earlier this year, BATS Global Markets suffered a technology glitch that led it to pull its own IPO on its own exchange.
Knight is conducting an internal review of the glitch and has hired International Business Machines Corp <IBM.N> to do a third-party review of its product development lifecycle processes. IBM will report its findings to Knight's board of directors in the autumn, Joyce said.
Knight also plans to hire a new chief risk officer, who will have responsibility for market risk, credit risk and operational risk.
Prior to the glitch, Joyce said his biggest concern was the effect possible regulatory reforms would have on Knight, which is a key player in high-speed electronic trading.
"It is clear that at the pace we all operate, I was mistaken, regulatory risk was not our biggest issue, operational risk was and we unfortunately proved it."
DEEP THINKING
Knight is one of the largest executors of stock trades in the United States. Joyce said volumes at Knight had largely returned to pre-glitch levels. That is due in part to the firms that stepped in to save Knight with a $400 million investment to keep it afloat just days after the mishap.
The investors included Blackstone Group LP <BX.N>, Getco and financial services companies TD Ameritrade Holding Corp <AMTD.N>, Stifel Nicolas <SF.N>, Jefferies Group Inc <JEF.N> and Stephens Inc.
Discount brokerage TD Ameritrade was a major customer of Knight before the investment and now "there may be an order routing agreement" between the two firms, CEO Fred Tomczyk said at the Barclays Conference, without elaborating.
Tomczyk was recently appointed to Knight's board of directors along with Blackstone managing director Martin Brand and General Atlantic's advisory director Matthew Nimetz.
As of August 31, Knight had about $510 million in cash and more than $200 million in excess of its regulatory capital requirements, Joyce said.
Now that the firm is in better shape, management and the reconfigured board will begin a strategic review of Knight's business units, Joyce said.
"There will be, I believe, some deep thinking going into the strategy and hopefully the net outcome will be a more optimized organization going forward."