Knight Capital Shares Rally Around Deal Talk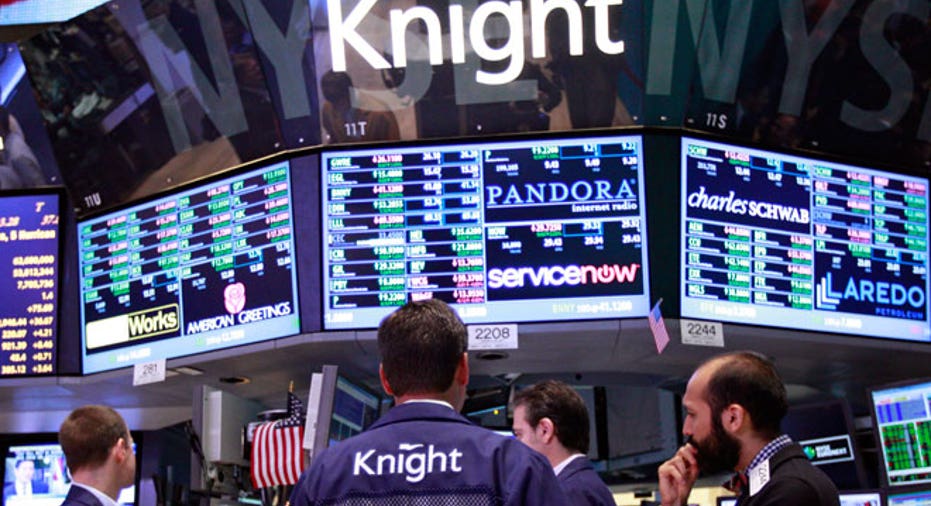 Shares of Knight Capital Group (NYSE:KCG) soared 15% Monday morning in response to a report that the company could unload its profitable market-making business.
The buzz comes just months after a software glitch in the business caused about $460 million in losses for Knight Capital and nearly forced the company into bankruptcy.
According to The Wall Street Journal, Jersey City, N.J.-based Knight Capital is expected to receive separate proposals this week for the market-making business from high-speed trading firms Getco and Virtu Financial.
A decision on a potential deal is expected by the end of the year, the paper said.
News of a possible sale prompted analysts at KBW to upgrade Knight Capital to "market perform" from "underperform," adding that a deal with either suitor would "fit strategically," Dow Jones Newswires reported.
It's possible Knight's board of directors will opt to sell the unit as part of a wider breakup of the company, the Journal reported, though it cautioned directors haven't ruled out keeping the company intact.
At this point it's not clear how much Knight's market-making business would fetch nor what would happen to longtime CEO Tom Joyce.
However, Knight downplayed the report in a memo over the weekend to employees.
"Given our recapitalization, rapid client re-engagement and rebound in trade volumes, there is no need for Knight to pursue a partnership, transaction or any other undertaking," Joyce said in the memo, according to Reuters. "We would only move forward with such an initiative if it makes strategic sense for our shareholders and our business."
Joyce added that the board and management team "regularly consider opportunities" in an effort to "enhance shareholder value and improve our offering to clients."
Still, Wall Street cheered the news, sending Knight Capital's soaring 14.46% to $2.85 in recent premarket trading. Despite the rally, Knight's shares have plunged since trading at around $12 before the trading glitch.
Knight's market-making business generated 2011 revenue of $704.5 million, representing a 28% increase and about half of the company's total revenue.
A deal could be slowed by a stepped-up Securities and Exchange Commission probe into the trading problems over the summer, which caused the firm to erroneously take massive equity positions.
Knight was forced to accept a highly-dilutive rescue to avoid a bankruptcy from a group of companies, including TD Ameritrade (NASDAQ:AMTD) and Chicago-based Getco.