KFC Owner Yum Logs Mixed 4Q Results; Shares Pop 4%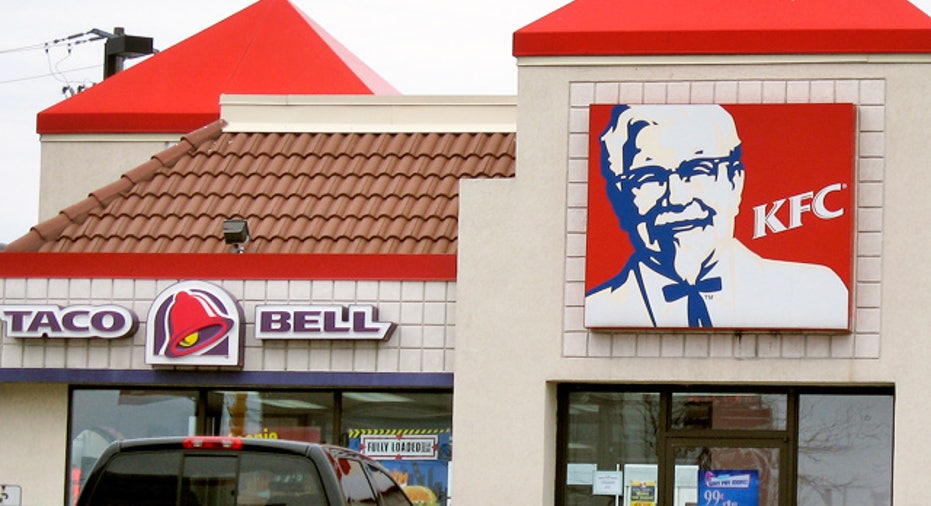 Yum Brands (NYSE:YUM) logged a lighter-than-expected 5% drop in fourth-quarter earnings on Monday, but the owner of KFC and Pizza Hut posted sales that trailed forecasts.
Despite the mixed results, shares of the fast food giant rallied 4% in after-hours action.
Yum said it earned $321 million, or 70 cents a share, compared with a profit of $337 million, or 72 cents a share, a year earlier.
Excluding one-time items, it earned 86 cents a share, exceeding the Street's view of 80 cents.
Revenue ticked up to $4.18 billion, but that missed consensus calls from analysts for $4.26 billion. Excluding currency fluctuations, global system sales increased 3%.
Yum said same-store sales slid 4% in China and 2% in the U.S. KFC China same-store sales dropped 4% during the fourth quarter, which is an improvement considering KFC sales tumbled 15% on the year.
The company acknowledged that its sales in China were "significantly impacted" by the December 2012 poultry supply incident and "subsequent news of avian flu."
"While 2013 was a challenging year, I`m pleased to report continued progress as we enter 2014," Yum CEO David Novak said in a statement.
Looking ahead, Novak said his management team is "confident" it has the people and resources to deliver at least 20% earnings growth this year.
Shares of Louisville-based Yum advanced 3.94% to $68.77 in extended trading Monday evening. That more than makes up for the shares' 1.47% decline during regular trading.