Key things to know about Apple Pay: What you need, where to use it, and is it safe?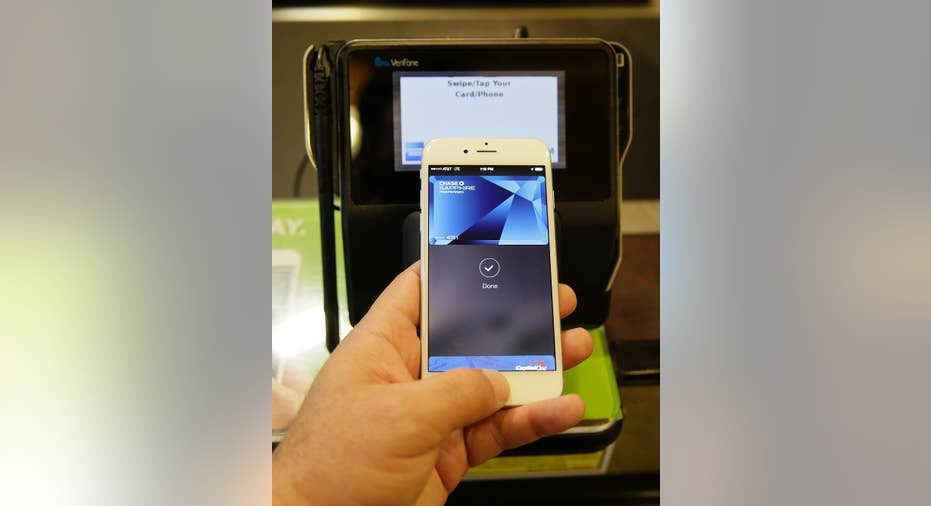 Apple's mobile payment system, Apple Pay, made its debut Monday. Now you can flash your new iPhone in the checkout line to pay for food, clothing and other goods. There's no need to pull out your credit card.
But don't leave your wallet or purse behind quite yet: Despite a few dozen retail chains pledging support for Apple Pay, so-called contactless payments are still new. Smaller merchants, in particular, aren't likely to have the necessary equipment right away.
Here's a guide to how Apple Pay works and what to expect:
___
Q. What do I need to use Apple Pay?
A. To fully use Apple Pay, you'll need an iPhone 6 or iPhone 6 Plus with iOS 8.1, a free software update released Monday. You'll also get some online-only features with the iPad Air 2 and iPad Mini 3 coming out later this week. Older devices won't work, even with the 8.1 update.
You'll also need a credit card that works with Apple Pay. Major credit card issuers such as American Express, Bank of America, Capital One, Chase, Citibank and Wells Fargo are backing Apple Pay. Apple says more than 500 banks are participating, representing about 83 percent of the card volume in the U.S.
To get started, use the Passbook app or go to "Passbook & Apple Pay" in the settings.
___
Q. Is it secure?
A. Although security measures are never foolproof, the Apple Pay system is safer than many current pay methods.
For one thing, a substitute account number is assigned when you set up Apple Pay. Merchants get that instead of your real card number. In addition, a verification code is created for each transaction, based in part on unique keys on the phone. Even if hackers get that substitute number, they wouldn't be able to generate the verification code without having possession of your phone, so fraudulent transactions would be declined.
Other services are starting to use one-time verification codes, too, but not all of them use the substitute account number. By using that substitute, a credit card issuer could cancel the number just for the phone, should you lose it. You wouldn't need to replace the entire card.
Apple says it knows nothing about your transactions, which are handled directly by the credit card processors.
___
Q. Where can I use Apple Pay?
A. Most retail stores that accept contactless payments should be able to use Apple Pay, as well as Google Wallet, Softcard and other services that are based on a wireless-chip technology called near-field communication, or NFC. It's possible that some stores have the hardware in place, but haven't turned on the functionality yet. The debut of Apple Pay is likely to prompt those merchants to do so.
A few dozen chains, including Macy's, McDonald's, Subway and Whole Foods, are expected to accept Apple Pay right away, though some of their stores might not be ready yet. Other retailers expected to do so by the end of the year include Staples, Urban Outfitters and Walt Disney Parks and Resorts.
Apple is distributing logos to merchants that accept Apple Pay, similar to symbols for Visa and MasterCard, though the lack of a logo doesn't necessarily mean Apple Pay isn't accepted.
In addition, you can use Apple Pay to make online purchases within apps, without having to enter card numbers, billing addresses and other information. It's up to merchants to enable this with app updates. Groupon, OpenTable, Staples and Target are among the initial ones to do so. You'll see a button for "Apple Pay" or "Buy with Apple Pay." The new iPads will be able to make in-app payments, but they lack NFC chips for in-store payments.
___
Q. What about smaller merchants?
A. Dry cleaners, local restaurants and other smaller businesses are less likely to have the equipment ready. All told, there are more than 200,000 payment terminals in the U.S. capable of making "contactless" transactions, but that's out of several million.
Starting late next year, merchants will be liable for fraudulent transactions if they don't have equipment with an enhanced security system called EMV. Because merchants have to upgrade equipment to EMV anyway, they can get the NFC capability for not much more.
But many equipment makers hesitated because demand for NFC hasn't been clear. Soon after Apple announced support, iPad-based retail payment system ShopKeep decided to start including NFC and plans to distribute new equipment to its 10,000 merchants over the next year. Other equipment makers are expected to do the same.
Even though relatively few small merchants can now accept NFC payments such as Apple Pay, that's bound to change in a year when the EMV deadline comes.
___
Q. Do I have to pay to use it?
A. Apple hasn't said much about how it plans to make money from Apple Pay transactions, but it's safe to say that credit card companies would be the ones covering any fees. Card companies might factor in those costs in the regular fees that consumers and merchants pay. However, those companies might be able to use savings from fraud reduction to cover any Apple Pay costs.
__
Q. How does this differ from other contactless systems?
A. Most noticeable will be the use of the fingerprint ID sensor to authorize transactions. Right now, it's easy to pull out a plastic credit card, so any mobile-payment system will have to be just as easy. That can't be said when you have to spend time typing in a passcode at the checkout line. The fingerprint ID lets you bypass that with one tap.