Kevin Spacey's Top 3 Tips For Better Storytelling. Yes, That Kevin Spacey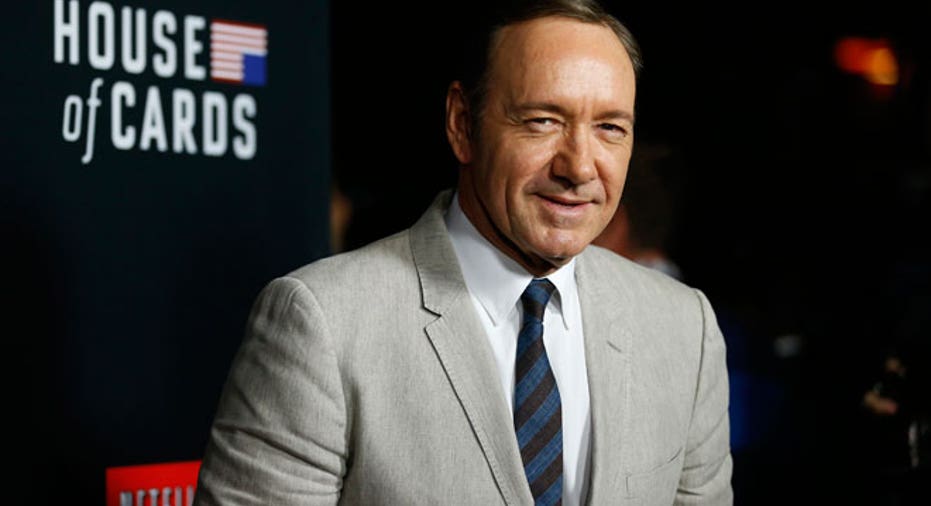 It's Kevin Spacey they wanted, and Kevin Spacey they got.
Some 2,500 attendees gave the actor a standing ovation as he took the stage at Content Marketing World, in Cleveland, Ohio, this week. But why was Spacey at a marketing conference, you ask? Good question. The word on the conference expo floor was: Who cares? It's Kevin Spacey.
None of which was lost on Spacey, who milled the moment: "I know what you're all thinking. What the hell am I doing here?" The audience erupted.
After gently teasing conference organizer and so-called "father of content marketing," Joe Pulizzi, Spacey answered his own question. Movie stars, content marketers, and journalists all have something in common: "When you strip everything away, we are all striving toward the same goal, and that is connecting with our audiences," Spacey said.
But there is one big difference, which Spacey didn't miss either. How about these buzzwords: authenticity, engagement, SEO, and the purchase funnel. "I know your f-in' terms," he joked. The audience erupted with laughter again.
Becoming more serious, he then took to one of the elephants in the content marketing room.
"Isn't good storytelling just luck and a guessing game?" he asked. "No. Good content marketing is not a crap shoot—it has always been about the story."
Then Spacey shared his three key elements that make better stories:
1. Conflict: "Conflict creates tension and keeps people engaged, and the best stories are filled with characters that take risks and court drama," Spacey said. "It's the decisions that characters make in the face of these challenges that keep us glued to our seats."
It's also true in advertising, he suggested, noting Nike's ability to play off the tensions found amid our own aspirations. "They channel the voice in the back of our heads—get your ass off the couch," he said.
Illustrating from his own life, Spacey described the past 10 years of his life working as artistic director of the Old Vic theatre, in London, as one of the most fulfilling periods of his life. "I am a better actor today than when I started," he said.
Tradition held that instead of the theater, Spacey should have kept making movies and lots of money for his agents. But he decided that tackling the unexpected would be more rewarding. This holds true for the stories we tell, as well. "Our stories become richer, and become far more interesting, when they go against the settled order of things to achieve the unexpected," Spacey said.
2. Authenticity: Spacey's next point was a vote for authenticity and truth in storytelling. The actor recalled the time Volkswagen first began selling the Beetle in the U.S. The German manufacturer took some risks by bucking the big-car trend. But rather than hide the Beetle's small dimensions, it emphasized cost and parking advantages in a successful advertising program.
"Yes, I'm cheaper, more economical, and squeeze into any space I want!" Spacey said. "The truth? Face up to it. Consumers appreciate this authenticity."
Likewise, Spacey said the television industry is responding to audience demands for authenticity and truth. Calling it the third great era in television, Spacey said creatives now have more control over storylines than ever before. Shows such as "The Sopranos," "Weeds," "True Blood," "Breaking Bad," and "House of Cards" wouldn't have been made 10 years ago because TV executives demanded "nice" characters.
3. The audience: Finally, Spacey said marketers must recognize just how much audiences have changed. The sheer variety of devices, platforms, and channels is transforming consumer expectations, which, in turn, impacts marketing and media landscapes.
"The audience doesn't care about the platform--they care about the content," he said. "The audience wants control, the freedom to binge. I believe we should give [them] what [they] want."
Illustrating the point, he referred to Amazon's recent purchase of Twitch.tv for $970 million, saying that, for some audiences, great computer gamers have become as entertaining as sports stars.
Spacey's speech was a vote for creative freedom, storytelling in its purest form, risk-taking, and the pursuit of individual passion. Inspiring for sure, but also a challenge for marketers who are wrestling with the best ways to tell stories that help sell products and services.
When asked about the best way to blend creativity and commerce, Spacey gave a simple but insightful response.
"It begins with knowing what story you want to tell," he said. "Everything else will follow."
More From CMO.com
5 Brands That Went Retro With Their Advertising
Flaws In Cloud Apps Could Put Marketing Data At Risk: Report
Top 5 Marketing Tech Skills —And How Much They'll Cost You
5 Lessons Marketers Can Learn From Growth Hackers