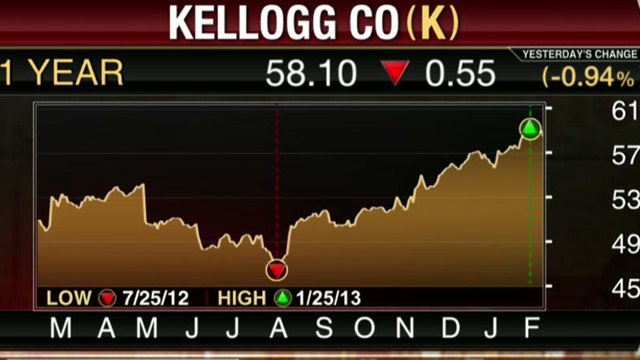 Kellogg (NYSE:K) narrowed its fourth-quarter loss and beat Wall Street expectations for sales and earnings, as the company's acquisition of Pringles and growth in the Americas fueled results.
Sales grew 18.2% during the period, while adjusted sales to exclude foreign-exchange translation and the Pringles deal rose 5.3%. The company, which increased fourth-quarter advertising expenditures by 11%, benefited from higher prices and new products.
A switch in accounting methods for its pension also helped Kellogg narrow its loss for the period to $32 million, or nine cents a share, compared to a $195 million loss, or 54 cents a share, a year earlier. Adjusted per-share earnings, which exclude some items, rose to 67 cents from 64 cents.
Total sales were $3.56 billion, aided by last year's $2.7 billion deal to buy chip brand Pringles from Procter & Gamble (NYSE:PG).
Analysts had anticipated per-share adjusted earnings of 66 cents and sales of $3.44 billion.
Organic sales grew 5.5% in North America and 4.8% in international markets, while Europe saw organic sales rise 2.7% despite a battle with retailers there over prices.
Kellogg, which makes well-known brands such as Rice Krispies and Nutri-Grain, also backed its forecast for the upcoming fiscal year.
Shares of Kellogg were up $1.20, or 2.07%, to $59.30 a share Tuesday morning. As of Monday's market close, the stock was up 14.28% over the last 12 months.