KB Home 3Q Profit Soars on Strong Revenue Growth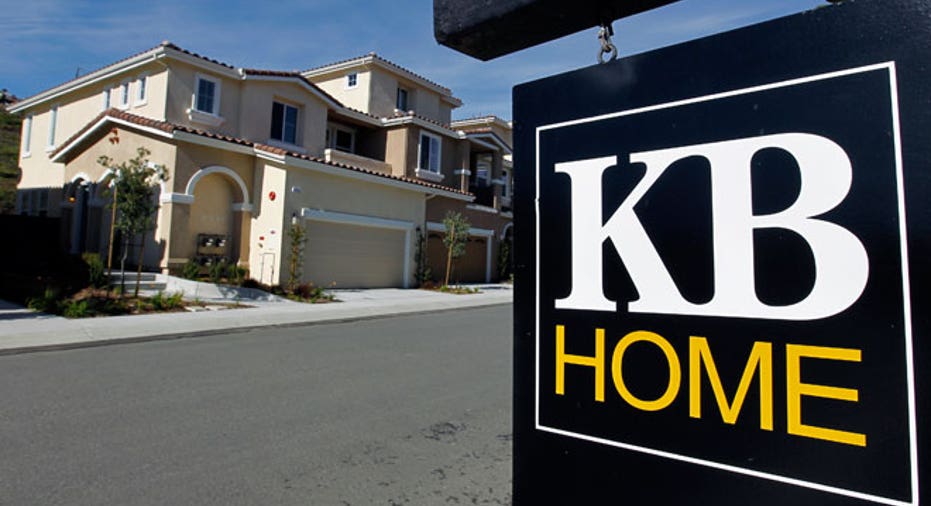 KB Home (NYSE:KBH) said Tuesday its third-quarter profit soared more than 700% amid double-digit revenue growth and higher selling prices.
The home builder logged a $27.3 million profit, or 30 cents a share, versus a year-ago profit of $3.26 million, or four cents a share. Revenue jumped 29% to $548.9 million.
Analysts were looking for per-share earnings of just 21 cents but revenue of $567 million.
Each of the company's homebuilding regions saw revenue grow at least 25% year-over-year, while homebuilding operating income more than tripled to $36 million.
Home deliveries checked in at 1,825 homes, a 6.1% increase, while net orders fell 8.6% to 1,736 units.
Interest expense fell 51% to $11.3 million. Housing gross margin ticked higher to 18.2% from 16.7%.
KB Home's results serve as another sign of a continued housing recovery, with rival Lennar (NYSE:LEN) also reporting a strong third quarter. The home builders have defied an uptick in mortgage rates, something KB Home Chief Executive Jeffrey Mezger called a "temporary effect" that slowed the pace of the housing recovery.
He added that KB Home expects to see "steady upward demand for housing as consumers adjust to both higher rates and pricing."
"The momentum we have built in our business continued to fuel our financial performance in the third quarter," Mezger said in a statement. "The fundamentals of the current housing recovery are firmly in place, supported by low inventory levels, an improving economy and positive demographic trends."
Average selling prices were up 22% at $299,100 a home in the latest period. The increase in prices was most pronounced in the Southwest, where average selling prices climbed 28%. The Southeast homebuilding region saw a 15% improvement, while West Coast prices were up 25% and the Central region posted 22% growth.
The cancellation rate as a percentage of gross orders widened to 33% from 29%. KB Home said the number of homes in its backlog slipped 3.3% to 3,039 units.
Shares moved five cents lower to $16.98 in early morning trading. As of Monday's close, the stock was up 7.8% since the start of the year.